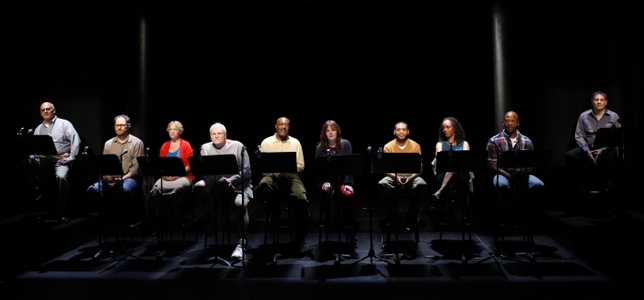 "The Exonerated" is one of the most viscerally moving nights in the theater I have ever experienced. From the moment the lights come up on the dimly lit stage -- creating the closed-in prison cell environment the characters unjustly inhabit -- these true tales of falsely convicted death row inmates tear at your heart strings. With a grade-A cast (including rotating members Brian Dennehy, Stockard Channing, Chris Sarandon, and Delroy Lindo the night I attended), the staged reading format melts away behind director Bob Balaban's beautifully conceived production.
The show originally opened in 2002 at the Culture Project and was adapted as a made-for-TV movie, also directed by Balaban and starring Susan Sarandon and Danny Glover, in 2005. This production marks the 10th anniversary of the piece, and the stories hold just as much relevance today as ever. Husband-and-wife writing team Erik Jensen and Jessica Blank explore the stories of six inmates facing the death penalty under false accusations. Each prisoner spends years in confinement before being exonerated.
There's Gary Gauger (a subtle Dennehy, who reprises his role from the TV film), a man convicted of murdering his parents. And Kerry Max Cook (Chris Sarandon), a man sentenced to death because of an old fingerprint on a female neighbor's doorknob. Robert Earl Hayes (a stellar JD Williams) is a black racetrack worker convicted of murdering a white woman, David Keaton (Curtis McClarin) finds himself convicted for murdering a police officer by virtue of his race, and Delbert Tibbs (Delroy Lindo) is a black man convicted of murdering a white man and raping his girlfriend. Finally, Sunny Jacobs (a spellbinding Stockard Channing), the first woman on death row, was charged with her common-law husband with murdering a Florida state trooper.
Although the piece is staged as a reading with podiums and microphones, Balaban's vision lends a cinematic quality. Aided by Tom Ontiveros' simple, haunting lighting design and David Robbins' eerie and effective original music and sound design, Balaban puts the audience in the prison cells and the questioning booths with these people. According to the program and a pre-show announcement, each word in the play ("with a few exceptions") comes from legal documents, court transcripts, letters, or interviews. It doesn't play like one long diary entry, though. The actors' dialogue overlaps and the show feels like a series of vignettes rather than standing monologues.
Channing welcomed the real Jacobs on stage the night I attended, where she spoke about how pieces like this give people like her a voice. Jacobs was in one of those cells -- and if "The Exonerated" is good enough for her, it's good enough for me. The work is extremely moving, and regardless of your political leanings, these stories will touch your heart.
Presented by the Culture Project in association with Innocence Project, Marc & Steven Kaplan, and Cheryl Wiesenfeld at the Culture Project, 45 Bleeker St., NYC. Sept. 19-Dec. 2. (212) 352-3101, (866) 811-4111, www.theatermania.com, or www.cultureproject.org. Casting by Nina Pratt and Kim Moarefi.

Critic's Score: A