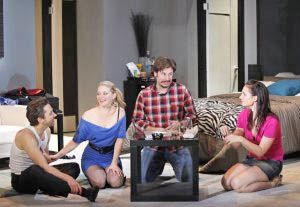 "Extinction" is cool! It's a hip play! About trendy people who dabble in drugs and know about good music! The multiple exclamation points are to drive the point home as hard as Gabe McKinley's predictable script.
One of those arrested-development comedies about two college buddies who have never quite outgrown their youthful excesses, "Extinction" purports to examine the bond between Finn (James Roday) and Max (Michael Weston) as they argue with one another over cocaine and booze in an Atlantic City hotel room, where they've convened for one of their infamous lost weekends. But really, "Extinction" is just an excuse to marvel at men behaving badly, even as Finn tries to become an adult. Max, a resolute hard partier, refuses to allow his friend to ruin Max's fun by abstaining from the festivities, so he secretly invites Missy (the marvelous Amanda Detmer) and Victoria (Stefanie E. Frame) to join them, over Finn's objections.
Too bad there's little or no reason to like these men, despite their pop culture–infused banter and adoration of the Pixies. Instead, we're stuck with two aging guys who might as well be whining about getting older over baby strollers on a street corner in Park Slope; neither of them seems to have learned anything from life except that it owes them more than they've been given. Missy and Victoria, on the other hand, don't dare ask much more from life than what they get; as a result, their scenes have a spark that is badly missing from Finn and Max's exchanges.
While Roday and Weston focus on flamboyantly displaying their characters' enjoyment of copious amounts of cocaine and booze, Detmer and Frame quietly steal the show by acting like real people instead of entitled heels who can't even make their self-destruction interesting. Director Wayne Kasserman spends so much time on the lighthearted aspects of Finn and Max's friendship and the college-student conception of cool drug use that when things turn dark for them both, it comes with a feeling of just desserts being served. We didn't like these guys in college; why should we want to check in with them now?
Presented by Red Dog Squadron and Dulé Hill at Cherry Lane Theatre, 38 Commerce St., NYC. Feb. 17–March 14. Tue., 7 p.m.; Wed.–Sat., 8 p.m.; Sun., 3 p.m. (212) 239-6200, (800) 432-7250, or www.telecharge.com.