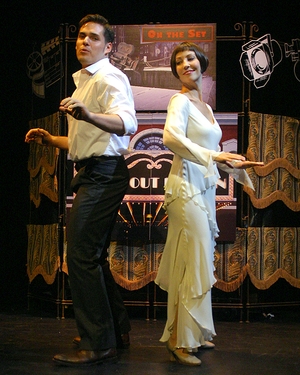 Playwright-lyricists Betty Comden and Adolph Green and composer Jule Styne hand-tailored "Fade Out–Fade In" to the considerable abilities of Carol Burnett, who in 1964 was making her first return to Broadway since achieving stardom there in 1959 in "Once Upon a Mattress." Once again she was guided by directing legend George Abbott. Lightning, however, didn't strike twice, and the show ended in recriminations, lawsuits, and 271 performances, a run that was interrupted by a three-month hiatus for Burnett to recover from whiplash sustained in a taxi accident. The star offered to buy her way out of the show for $500,000, but Comden and Green would have none of it.
Musicals Tonight!'s concert presentation proves that Burnett had ample reasons for unhappiness. This spoof of Hollywood in the 1930s is lazy, bottom-drawer work. The thin story has Manhattan movie usher Hope Springfield whisked away to Hollywood to become the next hand-picked screen star for producer Lionel Z. Governor. Hope arrives while LZ is off looking for talent in Europe and manages to shoot an entire picture before he returns to discover that they sent the wrong girl. He orders the film burned, imports hard-as-nails chorine Gloria Curie, and has the whole thing re-shot. Hope stays in Hollywood looking for work, but LZ gets her fired at every turn. Fortunately, LZ's nephew Rudolph, who loves Hope, saves the first version and previews it instead of the terrible remake. Hope is a hit, and all ends happily.
The book is just a set of linked routines allowing Burnett to show off her goofy wholesomeness, warm belt voice, and considerable flair for imitations and physical comedy. The overly familiar comic types surrounding her include an uber-vain movie star, Byron Prong; the apparatchik Rudolph and a cadre of other spineless nephews; the screechy-voiced Gloria; and a Bill "Bojangles" Robinson stand-in named Lou Williams, an erudite guy forced to shuffle onscreen. Styne provides a few nifty tunes ("Call Me Savage," the title song, and especially the wicked Temple-Robinson spoof "You Mustn't Be Discouraged"), but much of the score is uninspired.
Director Thomas Sabella-Mills, alas, doesn't have recourse to stars with the comic chops of a Burnett or Jack Cassidy, who played Prong. Vanessa Lemonides is a talented and game Hope, even brave enough to suggest elements of Burnett's persona. She and the equally talented Bill Coyne, as Byron, know what's required and provide the right flavors, but they haven't got the superhuman skill necessary to make the shopworn material land. The best work comes in small roles. Joan Barber is a hoot doubling as a once-girlish silent screen star now working in wardrobe and as power-mad gossip columnist Dora Dailey. Robin Haynes' slyly satirical Viennese shrink, there to sort out LZ's sexual problems, is a charmer. Terrence Clowe shuffles and taps with witty style as Lou.
If you're a fan of the authors, you'll probably find enough to enjoy in this rare opportunity to encounter "Fade Out–Fade In." I'm glad I saw it, but I'm a completist.
Presented by Musicals Tonight! at the Lion Theatre, 410 W. 42nd St., NYC. Oct. 16–28. (212) 239-6200, (800) 432-7250, or www.telecharge.com. Casting by Holly Buczek.
Critic's Score: C