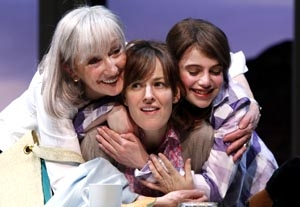 It sounds like an interesting proposition: a reworked version of an old play from Pulitzer Prize–winning playwright Beth Henley and the theatrical debut of Oscar-winning director Jonathan Demme. But their collaboration, "Family Week," feels like a retread of previous works from both artists. The play is a combination of "Crimes of the Heart," Henley's long-running 1981 comedy-drama, and "Rachel Getting Married," Demme's 2008 Oscar-nominated film. Both focus on quirky families coming to terms with death and dysfunction, with special attention to the love-hate bond among sisters.
The action takes place in an expensive mental rehabilitation center in an unnamed Western state (handsome set design by Derek McLane). Claire is recuperating after a breakdown caused by the unsolved murder of her teenage son. Her mother, sister, and daughter—all totally selfish and clueless as to how to help Claire—are visiting for family week. Another sister and Claire's estranged husband fail to show up and are only heard as telephone voices. Through group therapy sessions, the clan unloads an entire carousel full of emotional baggage, including incidents of abuse and incest. In a particularly stagey device, each of the actors doubles as a detached counselor named Sandra.
Not only is the plot familiar, but the 75-minute work fails to develop any of the characters and feels like a first draft. The scenes are short and choppy, as if we're watching a movie or TV show rather than a play. We're also missing Henley's trademark dark humor. In "Crimes of the Heart," "Miss Firecracker," and other pieces, the author was able to craft unique and lovable people who take a slanted and amusing view on life. Here it just feels as if disastrous events are being piled on top of one another in hopes that one will grab our attention. Demme's direction doesn't help. He seems to be stuck in cinema mode, staging brief moments as if for the camera and not allowing the emotions to build.
The four-person cast does its level best to bring depth to these two-dimensional figures. Rosemarie DeWitt makes for a heartbreaking Claire—she played the better-adjusted sibling in "Rachel Getting Married"—but Henley gives her so little to work with that it's difficult to sympathize with the character. As Claire's oblivious mother, Lena, Kathleen Chalfant turns in a multilayered performance, as always. She manages to convey some growth on Lena's part, as this narcissistic complainer shifts from criticizing the center's staff to looking within herself. Quincy Tyler Bernstine effectively captures the callous anger of Claire's sister Rickey but fails to find the humor. Young Sami Gayle is unafraid to display the nasty side of the adolescent Kay, Claire's daughter, and keeps her from being a total brat by showing that despite Kay's obnoxious behavior, this spoiled girl does love her mother.
There is potential in "Family Week," but Henley needs to explore the dynamics of this unhappy family more deeply in order to realize it.
Presented by MCC Theater in association with Marc Platt at the Lucille Lortel Theatre, 121 Christopher St., NYC. May 4–23. Tue. and Wed., 7 p.m.; Thu. and Fri., 8 p.m.; Sat., 2 and 8 p.m.; Sun., 3 p.m. (212) 279-4200 or www.ticketcentral.com. Casting by Telsey + Company.