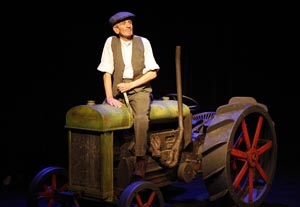 Michael Morpurgo, author of the acclaimed children's novel "War Horse"—the stage version is currently a hit at Lincoln Center Theater and a film adaptation arrives momentarily from Steven Spielberg—writes in a program note to "Farm Boy" that he doesn't do sequels. Nevertheless, he broke that resolution for this imaginative if a bit slight 1997 tale of the son and great-grandson of the young hero of "War Horse," Albert Narracott. Adapter-director Daniel Buckroyd, artistic director of Nottingham, England's New Perspectives Theatre Company, whose production this is, employs a minimalist approach mixing narrative storytelling with dramatized action in this largely charming and touching two-person staging.
Morpurgo has two stories in mind. The first is how motorization, in the form of the tractor, transformed the life of Albert's placid Devon, England, farming village after World War I. The second is the story of unspoken connection between grandfather and grandson, and how the latter helps the former realize a long-held desire while the older man gently guides the younger on his life's course. The proceedings take a while to get going, though, as a rather dutiful retelling of "War Horse" occupies too much space up top. Once the recap is done and we learn more about the family, the old green Fordson tractor sitting in a corner of granddad's barn, and the fate of Albert's beloved horse, Joey, we're off and running.
With nothing more than Tim Brierley and Susan Winters' detailed and evocative tractor sitting center stage and one wooden chair, Morpurgo and Buckroyd's language conjures the sights, sounds, and even the smells of rural life, aided only by Mark Dymock's sensitive lighting, Matt Marks' superb and subtle original score, and the two fine performers. Handsome Richard Pryal, equal parts youthful ardor and awkward reticence, creates a strapping young lad who loves the country despite his parents' dismissal of it. Pryal can, however, occasionally get a bit broad when inhabiting other characters as part of the storytelling. Wiry John Walters is the soul of authenticity as grandfather, whose eyes can twinkle or darken at a moment's notice, and who contains the crankiness of age and the quiet self-satisfaction of having lived the life he wanted without having lost touch with the romantic yearning of the boy within.
"Farm Boy" never transcends its origins as a children's novel in the way the stage version of "War Horse" does, and at 70 minutes it may not sate everyone's theatrical hunger. But there is still plenty of power in its conscious understatement and perceptive writing.
Presented by New Perspective Theatre Company at 59E59 Theaters as part of Brits Off Broadway, 59 E. 59th St., NYC. Dec. 13–Jan. 1. Tue.–Thu., 7:15 p.m.; Fri., 8:15 p.m.; Sat., 2:15 and 8:15 p.m.; Sun., 3:15 and 7:15 p.m. (No performances Sun., Dec. 25 and Jan. 1, 7:15 p.m.; additional performance Thu., Dec. 29, 2:15 p.m.) (212) 279-4200 or www.ticketcentral.com.