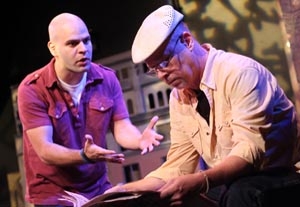 You have to admire Richard Hoehler, who wrote and plays half the characters in "Fathers and Sons," a two-hander examining variations on the titular masculine relationship. He's written and performed three previous solo shows and now has gotten a production showcasing himself and one other performer (Edwin Matos Jr.) in multiple roles onto a Theatre Row stage. It's too bad the work offers no new insights, and the scenes seem ripe for adaptation into TV movies on the Hallmark Channel. In fact, the 90-minute play gave me the feeling I was switching channels from a soap opera to Lifetime, so prevalent were the clichés.
The premise is a play within a play: Actors Richard and Edwin rehearse the former's drama "Fathers and Sons," consisting of five vignettes. A stepfather clashes with his unruly stepson. Just before a crucial college interview, a Latino youth is embarrassed by his first-generation father's lack of education. A gay acting student seduces his much older mentor in order to gain a slot in a Yale drama seminar. A mentally challenged man must leave his uncle's house for a group home. A recovering alcoholic reunites with his estranged son. In between these scenes, Richard and Edwin work out their own issues, which chiefly stem from Edwin's chronic lateness and lack of commitment. In these rehearsal segments, the conflicts feel manufactured in order to produce shouting matches, and the whole piece comes across as a collection of scene-study exercises rather than a unified whole.
Fortunately, both Hoehler and Matos have solid technique and manage to bring to some of the scenes the vital spark of reality the writing lacks. As the nephew, Matos credibly establishes an adult with the emotional capacity of a child and forges a strong connection to his beloved uncle. Even though the character is a figure we've seen dozens of times before, Hoehler is deeply moving as the alcoholic father battling cancer and desperately attempting to save his alienated son from going down the same path. Director Chris Dolman keeps the pacing brisk but ultimately fails to overcome the script's fragmentary and overly familiar nature.
Presented by Joyce Johnson Deep End Productions and Little Victor Productions at the Lion Theatre, 410 W. 42nd St
., 
NYC. Sept. 17
–
Oct. 4. Wed
.–
Sat
.,
8 p.m
.;
Sun
.,
3 p.m
. (
212
)
279-4200 or www.ticketcentral.com
.