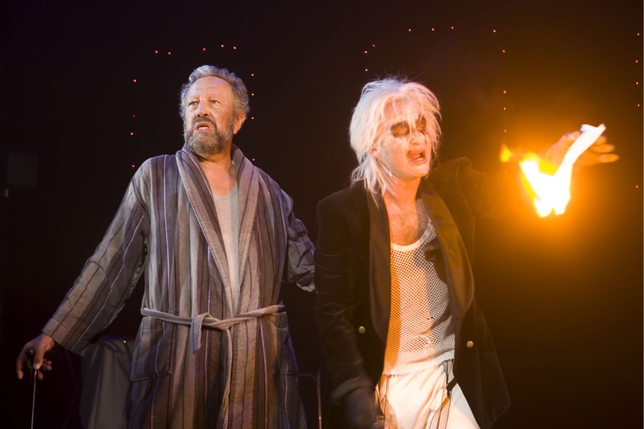 Two years ago the Vesturport Theatre of Iceland brought a stunningly athletic stage version of Kafka's "Metamorphosis" to the BAM Next Wave Festival. Now this innovative company is back—this time in collaboration with the Reykjavík City Theatre–with an equally daring adaptation of the Faust legend. In "Metamorphosis," the acrobatic actor playing Gregor Samsa crawled up and down the walls of an Escheresque bourgeois apartment. Here, set designer Axel Johannesson has taken over the entire BAM Harvey Theater, stretching a huge net over the heads of the audience. Actors bounce and cavort on this trampoline, even jump into it from the balcony, to suggest the all-encompassing presence of the demons that tempt the hero.
Featuring a script written by five company members and hauntingly beautiful music by Nick Cave and Warren Ellis, this version of the classic story is set in a contemporary nursing home on Christmas Eve. Johann, a retired actor, despairs over reaching his life's end having only known stage passion rather than the real thing. After an impromptu recitation of "Faust," he confesses his love for Greta, a young nurse. She gently rejects his advances and leaves with her domineering brother, the head attendant at the home. Then, in a dazzling blast of stage pyrotechnics, one of the withered residents transforms into Mephisto, the prince of darkness, and offers Johann infinite sensual pleasures, including Greta's love, in return for his immortal soul. In another stunning coup de théâtre, Johann exchanges bodies with Asmodeus, a handsome young servant of the devil. As he pursues his dream girl, circuslike athletic maneuvers parallel the internal struggle of the protagonist.
Director Gísli Örn Gardarssson skillfully balances dark humor, arresting acrobatics, and philosophical debate as the characters leap from the stage to the overhead net, blast away at guitars like rock stars, and juggle issues of mortality and morality. Thorsteinn Gunnarsson is a dignified yet pitiable older Johann, while Bjorn Hlynur Haraldsson captures both the conflicted intensity of the younger Johann and the twisted psyche of the demonic Asmodeus. Resembling a satanic Mick Jagger, Magnus Jonsson is a scary and sexy Mephisto. Unnur Osp Stefansdottir takes the potentially simpering ingénue role of Greta and endows her with spirit and strength.
The show, however, is stolen by Nina Dogg Filippusdottir as Lilith, Mephisto's lusty female lieutenant. Embodying constant carnality, Filippusdottir radiates heat as she squirms all over the stage and above the audience. Whether greedily swilling blood, writhing on a piano, or swinging from a trapeze, this Lilith commands attention.
Presented by Brooklyn Academy of Music and Theatre im Pfalzbau as part of the BAM Next Wave Festival at the BAM Harvey Theatre, 651 Fulton St., Brooklyn, N.Y. Dec. 12–16. (718) 636-4100 or www.bam.org.
Critic's Score: A