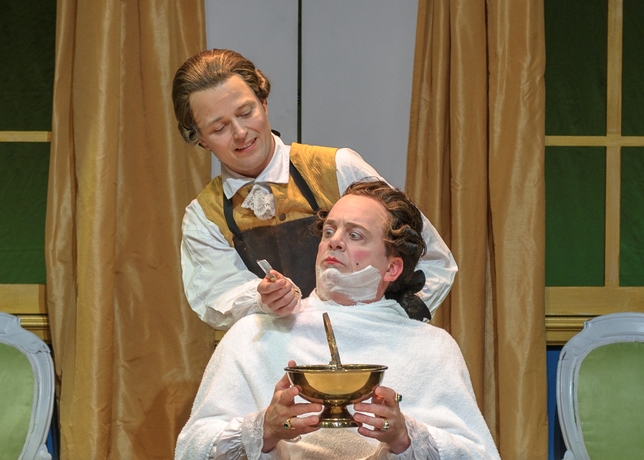 Like its predecessor "The Barber of Seville," Pierre Beaumarchais' "The Marriage of Figaro" is overshadowed by the operatic version and thus rarely performed. Charles Morley's saucy and sassy script is not a literal translation and cheerfully acknowledges the more famous opera as well as the fact that we are watching a play. The title scamp often turns to the audience and includes us in his mischievous plans. In addition, there are numerous indirect references to our current political situation, with Figaro snidely railing against the one-percent elite of 18th-century France in the person of his master, the vain and pompous Count Almaviva. Hal Brooks' direction carefully balances this self-referential attitude with the right dose of verisimilitude, convincingly portraying the silly goings-on as important to the characters.
Taking up where "Seville" left off, the merry plot focuses on the attempts of the clever Figaro to wed Suzanne, Almaviva's household maid, while their imperious boss schemes to bed her. Meanwhile, Almaviva's long-suffering wife conspires with Suzanne to teach their menfolk a lesson in humility. Hovering on the sidelines with agendas of their own are the youthful Cherubin, besotted with all the female characters; spiteful Dr. Bartholo, intent on revenging himself on Figaro for wrongs suffered during "Seville"; sharp-tongued Marceline, in love with Figaro and hell-bent on stopping his marriage; and avaricious Bazile, out to thwart Figaro anyway he can.
Brooks and the game cast keep the proceedings moving at a rapid but not rushed clip. Figaro's extended asides—there's a particularly long one in the last act—don't feel like interruptions but sharp commentary on the action. That's largely due to Sean McNall's disciplined performance. This Obie-winning Pearl veteran makes Figaro a combination of smartass, philosopher, and standup comic. He's sort of a refined Bugs Bunny, fighting back against powerful foes and topping them with his razor-sharp wit. His foil is the exquisitely pissed-off Chris Mixon, as Almaviva. Watch as his powdered features screw up into a mask of frustration every time Figaro bests him.
Jolly Abraham is a tart and tangy Suzanne, while Joey Parsons plays the Countess Almaviva's anger and disappointment with the appropriate mix of lightness and sorrow. There are also valuable contributions from Dan Daily's befuddled Bartholo, Robin Leslie Brown's vinegary Marceline, Ben Charles' fresh-faced Cherubin, Tiffany Villarin's empty-headed chambermaid, and Brad Heberlee's nasty Bazile. In addition, Heberlee earns guffaws as a drunken farmer and a stuttering judge.
The Pearl is one of the few theater companies in the city with a resident acting company, and the strength of its ensemble is on full display in its new permanent venue. Kudos to Jo Winiarski's stylish and economic set, Barbara A. Bell's lush period costumes, and Gerard Kelly's gorgeous wigs.
Presented by and at the Pearl Theatre Company, 555 W. 42nd St., NYC. Nov. 4–Dec. 2. (212) 563-9261 or www.pearltheatre.org.
Critic's Score: A