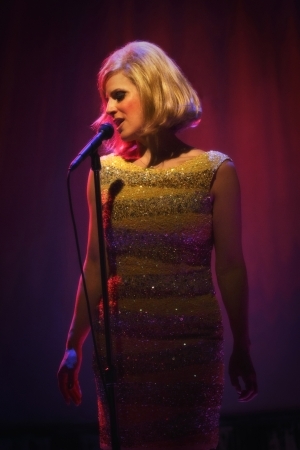 Let's cut to the chase: How well does Kirsten Holly Smith cover "Son of a Preacher Man"? As star and co-author—with Jonathan Vankin—of "Forever Dusty," the musical bio of pop icon Dusty Springfield, Smith must know that Springfield's still-legion fans will evaluate her performance heavily on the basis of her rendition of the 1968 classic. (The song is even used as a framing device; the show opens, somewhat arbitrarily, on the Memphis recording studio where Springfield is struggling through take 26 of it, flashes back to Dusty's unhappy childhood, early career, and romantic struggles, then jumps forward again to cover her declining popularity, alcoholism, illness, and untimely demise.) Smith's uninterrupted vocal of "Preacher Man" occurs about halfway through the 105-minute running time, and she belts it out of the park. The audience cheers as Smith strongly captures some of the excitement mid-century listeners must have felt upon discovering this white chick with the Doris Day 'do who sang black. She may not have quite Dusty's range or breath control, but Smith is uncannily close vocally, and a visual ringer too.
Good thing she's so good, because dramatically speaking, "Forever Dusty" is, uh, basic. An authors' note conveys that Smith and Vankin have simplified and slightly altered Dusty's narrative. But did they have to omit her second longtime companion? Or mask the abuse her first partner, here called Claire (an excellent Christina Sajous), perpetrated? Or portray Dusty as more of a racial freedom fighter than she really was? It's a "Jersey Boys"-style rendering, with songs mainly presented diegetically; when the authors try to integrate numbers into the plot, it's clumsy indeed. Smith and Vankin do manage a couple of smart, character-defining lines. ("My favorite color, vodka," slurs Dusty as she eyes the bar.) But they also lurch back and forth in time unconvincingly—we know we're in the seventies because a record producer announces, "This is the seventies, kid"—and they overdo the Dusty-as-temperamental-star characterization, making her almost unrelentingly snippy and demanding.
There's virtually no set, just rear projections; Matt Kraus's sound design is so amped up that we can't tell whether the backup singers are live or MP3 recordings; Benim Foster and Sean Patrick Hopkins, playing the men in Dusty's life, speak in accents that are all over the map and are denied the stage time to create actual characters; and Randal Myler's direction amounts to traffic-cop duty, hustling bodies on and off to change wigs (by Paul Huntley) and costumes (by Nancy A. Palmatier, presenting a fun mod-era fashion show).
As an evening of Dusty's greatest hits, though, "Forever Dusty" is aces. Listen to Smith caress "You Don't Have to Say You Love Me," or bop through "I Only Wanna Be with You," or emote in "I Just Don't Know What to Do with Myself." She's been developing this project for years, and her affection and reverence for her subject are palpable. Smith does Dusty proud.
Presented by Leslie Brockett, Jorja Fox, Jane Gullong and Sandalphon Productions, and Eva Price at New World Stages, 340 W. 50th St., NYC. Nov. 18–Jan. 6. (212) 239-6200 or www.telecharge.com. Casting by Joy Dewing.
Critics' score: B