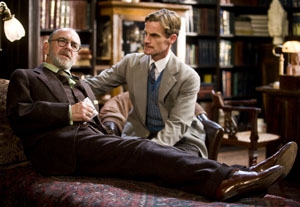 Playwright Mark St. Germain adds to the popular genre of "what if" literature with "Freud's Last Session," a compact 75 minutes of bristling intellectual debate between the father of psychoanalysis and a young C.S. Lewis, before he gained fame as a religious philosopher and author of "The Chronicles of Narnia." St. Germain has previously explored this type of speculative history in plays like "Camping With Henry and Tom" (which details an imaginary meeting between Henry Ford and Thomas Edison) and "Ears on a Beatle" (two FBI agents listen in on John Lennon). A few weeks before Freud's death in 1939, when he was living in London after fleeing Hitler's Germany, the great man received a visit from an unnamed Oxford professor. St. Germain imagines this unknown caller to be Lewis, a passionate convert to Christianity after years of atheism. The two spar over the existence of God, the nature of sex, and the meaning of life. It's a stimulating argument, and St. Germain gives equal weight to both sides, never allowing the high-minded talk to descend into a contest between talking heads.
The production is a transfer from the Barrington Stage Company in Massachusetts, where I saw it during one of its two successful engagements last summer in the theater's tiny studio space. Martin Rayner and Mark H. Dold have more room to maneuver on set designer Brian Prather's faithful re-creation of Freud's study, including the famous analyst's couch. Director Tyler Marchant and his two-man ensemble have maintained the intensity they achieved in the more intimate Barrington space. If anything, the connection between the actors has grown deeper. You can sense that each respects the other—both the performers and the characters.
Rayner's Freud projects the irascible fury of a master intellect nearing the end of his powers while rising to meet a worthy opponent. Freud was dying of oral cancer, which had eaten away the roof of his mouth. Though he had to be fitted with an uncomfortable prosthesis, he still enjoyed his daily cigar. "It's the only form of sex left to me," he quips. Rayner endows the master psychiatrist with a painfully real physical life. Every movement costs him, and you can hear the agony in his raspy voice. Dold has grown more subtle in Lewis' heartfelt pleading for his faith. Lewis appeals to reason rather than emotion with his carefully arrived at points. His compassion for Freud's chronic condition is etched on Dold's face as the great doctor calls on the Oxford don to remove the painful prosthesis. It's a moment of profound intimacy in a near-perfect gem of a play. My only quarrel with St. Germain's work is his slight penchant to give in to obvious maneuvering. It's not credible that Freud and Lewis, who have just met, would resort to using details of each other's personal lives to score intellectual points.
This work could easily have been a dry history lesson, but thanks to a thoughtful script, sensitive direction, and heartfelt performances, "Freud's Last Session" is worth a visit.

Presented by Carolyn Rossi Copeland, Robert Stillman, and Jack Thomas at the Marjorie S. Deane Little Theater, West Side Y, 10 W. 64th St., NYC. Opened July 22 for an open run. Tue., 7 p.m.; Wed.–Sat., 8 p.m.; Wed. and Sat., 2 p.m.; Sun., 3 p.m.(212) 352-3101, (866) 811-4111, www.theatermania.com, or www.freudslastsession.com. Casting by Pat McCorkle Casting.