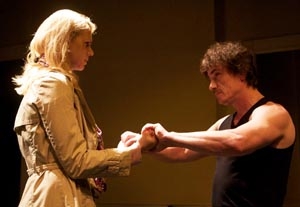 See
FUBAR
if you want to experience theatrical shock and awe. So smart, entertaining, stylish, and surprising is Karl Gajdusek's play that it risks looking too slick and hip in any description. Before that description, then, you should know that it's a fresh and compelling story with sharp, smart dialogue, built on deep and powerful themes, acted truthfully and creatively. Gajdusek's bio has impressive credits, including work as a story editor on Showtime's
Dead Like Me
, but that he isn't as well known as Neil LaBute only shows how important it is to have festivals like Americas Off Broadway to bring such talents here.
The characters battle over their conflicting memories and the future in San Francisco, a city still dealing with its pained Summer of Love innocence as it hurtles into a dot-com frenzy of wealth (program notes suggest the play takes place around the millennium). Mary (Lisa Velten Smith), a doctor, and her husband, David (Jerry Richardson), a photographer working at an Internet company, have moved there after Mary's mother's suicide to take care of her house. In it they find a wall of oddly labeled boxes whose contents are miniature plays themselves. The music-box cable car that comes out of the one labeled "In case of emergency" is connected with either a sweet story David heard from Mary's mother or a terrible memory of Mary's, one that fuels her anger at her hippie mother for calling life "Interesting! Incredible! Amazing! Fantastic!" while accepting her husband's violent physical abuse.
David's old friend Richard (Ryan McCarthy) peddles high-end drugs like the antidepressant 5-HTP and explains how they affect the brain; he's writing a book about "the problem of self-recognition." Richard's free-spirited wife, Sylvia (Stephanie Szostak), is having an online affair with a man with the handle Ahmed Khan. Walking down the street, Mary is shockingly attacked. She takes boxing lessons from an angry older gym owner, D.C. (Dan Patrick Brady), a man the Internet craze has left behind. When he teaches her how to make a fist, you can see all the women in the audience quietly follow his instructions. David wants to "say all the right words," but Mary hears subtext he doesn't even know he has. "When you're threatened, you become so nice," she says. "Why do you do that?"
Larissa Kokerknot's stylish direction brings out the fundamental humanity in all the characters. The actors show us the characters' vulnerability, rage, beauty, and wonder as they move through a shifting world.
FUBAR
—the title is an acronym for "fucked up beyond all recognition"—is a powerful portrait of people desperately trying to connect with each other who really need to connect with themselves.
Presented by Project Y Theatre Company as part of Americas Off Broadwayat 59E59 Theaters, 59 E. 59th St
.,
NYC
.
June 16
–
28. Tue
.,
7:15 p.m
.;
Wed
.–
Sat
.,
8:15 p.m
.;
Sun
.,
3:15 p.m
.
(
212
)
279-4200 or www.ticketcentral.com
.
Casting by Judy Bowman Casting
.