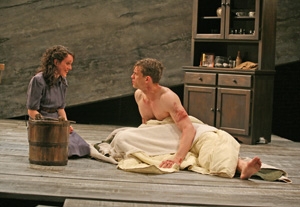 The Playbill for "Gabriel" says only that it takes place on "an island on the edge of a foreign occupation." But the lobby historical displays, press palaver, and even the dialogue specifically place it on Guernsey Island, one of the Channel Islands belonging to Britain but overrun by the Nazis during World War II. Playwright Moira Buffini's self-conscious vagueness seems indicative of a desire for universality, but it's probably more about the well-worn story she's telling. Buffini tries to elevate her tale into something new by focusing on weighty issues of morality, throwing in touches of mysticism, and writing much of the script in blank verse. Ultimately, though, she doesn't find a fresh angle on the eternal tango of occupiers and the occupied.
Widow Jeanne Becquet has declined to join England's evacuation of the island to safeguard the family home. Lilian, her Jewish daughter-in-law, has been trapped into staying by Jeanne's willful 10-year-old daughter, Estelle, who panicked and ran away just as they were to board the last boat out. All three occupy an outbuilding on the estate, along with crusty housekeeper Mrs. Lake, with the Nazis setting up camp in the main house. Jeanne works hard at being friends with whatever officer is in charge, currently the just-arrived Major Von Pfunz, who soon falls for her. When Lilian saves an injured young man she finds washed up naked on the rocks and hides him in the attic, Jeanne is furious. Estelle names him Gabriel, and when he awakens he has no memory. As he speaks flawless English and German, he could belong to either of the warring sides. His presence, naturally, becomes a catalyst for catastrophe.
Ruffini attempts to contrast Gabriel's newly acquired moral innocence with the compromises war has forced on her other characters. Jeanne uses sexual favors with the enemy to get her way. Lilian secretly doesn't love her husband, who's off fighting for England, to the point of suicidally wandering through a minefield. Mrs. Lake sells forbidden alcohol on the black market. Estelle acts out constantly in ways that put everyone at risk. Von Pfunz follows orders he claims to detest and writes tortured poetry about the Holocaust, of which he nevertheless approves. All told they're a pretty sorry bunch. Exploring how far they'll go to get what they want just doesn't hold enough interest. It's no surprise that when finally faced with a crisis calling for self-sacrifice, it's Gabriel who delivers.
David Esbjornson's character-focused direction does its best to keep us involved. Lisa Emery's detailed work makes the hard Jeanne understandable, if not likable, while Samantha Soule is her vigorous opposite as the high-minded Lilian. Zach Grenier avoids cliché as Von Pfunz as much as he can. Patricia Conolly's entertainingly pragmatic Mrs. Lake comes from any number of British war films. Libby Woodbridge, alas, is too old to convince as a 10-year-old, which makes Estelle even more annoying. As Gabriel, Lee Aaron Rosen isn't asked to do much beyond look angelic and be mysteriously romantic, and he's just fine doing both.
Riccardo Hernandez's set—raked wooden floorboards coming apart at the edges and crushed at an angle by a hulking prisonlike back wall with a window slit—is a bit heavy on the symbolism and lit moodily by Scott Zielinski. Martin Pakledinaz's costumes contribute a note of realism, such as the heavy boots under Jeanne's evening dress as she returns from a party.
A 2004 British miniseries, "Island at War," shown here on PBS, covered the same territory with less pretension. It's just one more thing that makes "Gabriel," despite all the talented folks involved, feel like old news.
Presented by and at Atlantic Theater Company, 336 W. 20th St., NYC. May 13–June 20. Tue.–Sat., 8 p.m.; Wed., Sat., and Sun., 2 p.m. (No matinee performance Wed., May 19.) (212) 279-4200 or www.ticketcentral.com. Casting by Telsey + Company.