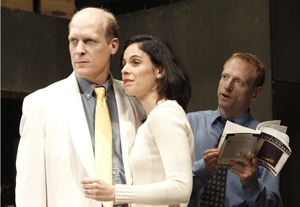 At first it seems like a ridiculous concept. While waiting for his computer to be fixed, a bored office worker picks up a copy of "The Great Gatsby" and begins reading it aloud. Gradually, his colleagues cease filing papers, typing reports, and sorting mail to act out F. Scott Fitzgerald's classic 1925 novel until, six and a half hours later, the tale of the charismatic, mysterious Gatsby, his pursuit of the American dream, and his tragic love for the elusive and careless Daisy Buchanan has ended. That's the premise of "Gatz," Elevator Repair Service's marathon adaptation of one of the finest works in the American canon, presented by the Public Theater.
And yes, the beginning scenes of director John Collins' epic production feel a bit forced, gimmicky, and obvious. Papers and letters are tossed about with abandon to suggest the reckless Jazz Age atmosphere of Gatsby's parties and the squalid debauchery of an afternoon booze-up at the apartment kept by Daisy's husband, Tom, for his mistress, Myrtle. Gatsby and Daisy's first meeting at Nick Carraway's house is played as slapstick comedy, with the actors rushing around and dropping props, accompanied by exaggerated sound effects. The sardonic Jordan Baker, a golf pro, is played by an office messenger in a golf shirt. She is usually seen reading golf magazines, as if we didn't get the point.
But as we get deeper into the novel, Collins and company wisely drop the gimmicks and allow Fitzgerald's glittery prose to stand on its own. The most effective scenes consist of one or two actors sitting at a table just reading the book. The sequence in a Manhattan hotel suite in which Gatsby calmly informs Tom Buchanan that he is running away with Daisy is particularly moving in its simplicity.
Collins has directed the actors to underplay their roles, letting the magnificent Fitzgerald tell the story. Most of the time, this ploy works effectively, particularly in the case of Scott Shepherd, who does a masterful job as the worker with the crashed computer who morphs into the narrator Nick Carraway. It's his job to read the vast majority of the text, and he maintains a firm handle on the material, simultaneously imparting Carraway's sorrowful regret over Gatsby's fate and Fitzgerald's sharp observations of the excesses of 1920s America, all without stooping to melodrama.
In some instances, the subtle performances come across as too bland, such as Jim Fletcher's portrayal of the office manager, who turns into the title character. He effectively conveys Gatsby's yearning for Daisy but fails to impart much else. Victoria Vazquez's Daisy is an attractive but vapid siren, but that is how Fitzgerald intended her. Susie Sokol has Jordan's dry wit but not her steely intelligence.
On the stronger side, Gary Wilmes is an appropriately brutish Tom Buchanan, Laurena Allan captures the vulgar vitality of Myrtle, and Aaron Landsman is the perfect hangdog embodiment of her pathetic husband, George.
Louisa Thompson's seedy office set and Mark Barton's versatile lighting, ranging from harsh fluorescent tubes to gentle spotlights, create the dual atmosphere of the workplace and the novel. Ben Williams' lifelike sound design is most effective in taking us into Fitzgerald's world. In fact, Williams is another character in the piece, sitting at a sound board and occasionally taking part in the action. His presence doesn't make sense at the opening, when the presentation appears to be totally realistic, but gradually he becomes a believable part of this fantastic staging of the great American novel.  
Presented by and at the Public Theater, 425 Lafayette St., NYC. Oct. 6–Nov. 28. Wed., Fri.–Sat., 3 p.m.; Sun., 2 p.m. Additional performance Mon., Oct. 11, 3 p.m. No performance Wed., Oct. 13. (212) 967-7555 or www.publictheater.org.