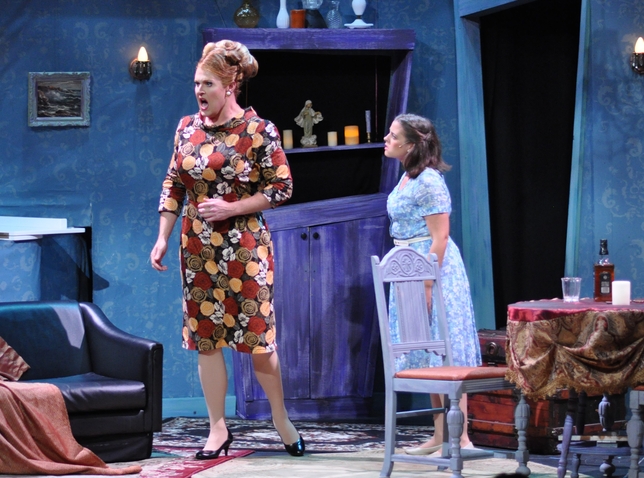 A spooky operatic treat, just in time for Halloween, "The Medium" is a highly accessible chamber opera guaranteed to excite anyone with a bent for musicalized melodrama. With both music and libretto by the Italian-born American composer Gian Carlo Menotti, the work tells the tale of Madame Flora, a charlatan spiritualist who conducts phony séances in her parlor. Assisted by her daughter and a deaf-mute orphan boy she took in off the street, Madame Flora cons grieving parents into believing that they are communicating with the spirits of their dead children. Set in New Orleans, the hourlong opera recalls the dramatic sensibilities of a Southern gothic short story. Sung in straightforward, easy-to-understand English (there are no supertitles), Menotti's tuneful score abounds in influences from American vernacular and jazz music, making for the kind of musical piece likely to be more at home in a Broadway theater than at the Metropolitan Opera House.
Animatedly directed by Donna Drake, with astute musical direction and piano accompaniment by Elizabeth Hastings, the solidly sung and imaginatively staged production keenly captures the opera's ensnaring narrative arc, enticing us with homey, childlike games and neighborly gatherings that gradually turn frightening and ultimately tragic. The show's surprise attraction is the casting of noted drag performer Jeffery Roberson (aka Varla Jean Merman) in the role of Madame Flora. While Roberson's impersonation contributes deliciously to the story's offbeat aura, he doesn't have the vocal chops, particularly in the top registers, to express the weightier parts of the drama with his singing. When it needs to grow and envelop us in emotion as the character descends into madness, Roberson's voice sounds too small and thin. Stefanie Izzo, however, possesses a gloriously expressive soprano and portrays Monica, the daughter, with youthful warmth that by contrast serves to highlight the work's darker elements. The acting honors go to violinist Edmund Bagnell, who performs the nonsinging role of Toby, the mute who is in love with Monica and "speaks" through his violin playing. The highlight of the evening is the complex, marvelously disturbing scene in which he confesses his love to her. She sings and dances an affecting waltz, and he plays the violin while she voices his sentiments. They almost kiss but abruptly return to the land of make believe, burying their illicit love within silly children's games.
Adding to the show's creepy delights are Chris Page's eerie lighting and Michael Steers' appropriately off-kilter set. The realistic living room looks normal yet feels peculiar because of the skewed rather than straight lines of its walls, shelves, cabinets, and doorframes, not to mention the bizarre paint designs and drippings that appear on the walls at night but were nowhere in evidence during the day.
Presented by Provincetown Counter Productions and Mark Cortale at the Marjorie S. Deane Little Theater, 10 W. 64th St., NYC. Oct. 25–Nov. 11. (800) 838-3006 or www.brownpapertickets.com.
Critic's Score: A-