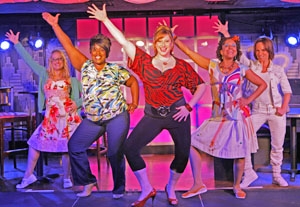 This is Back Stage's review of the show's original run at Sofia's in summer 2009.
When the whole audience joins in to chant "I Will Survive," you realize that "Girls Night: The Musical" is not just a silly bachelorette-flavored night on the town. It's a rally. It involves the audience deeply and sincerely in a way that the current Broadway production of "Hair," in its earnestness, can only envy. Okay, that audience is somewhat drunkenly singing "I'm Every Woman" and "Don't Cry Out Loud" (a collective sigh was heard as that one started), but this be-in is real.
The thin plot suffices. Narrator Sharon (impish Renée Colvert) wears angel wings because she's dead, having fallen off a moped at age 16. Her closest friends are gathering 22 years later at a karaoke bar to celebrate the engagement of Sharon's daughter, Candy Rose. ("It was that or Aretha Van Halen," Sharon explains.) Brash Liza (Yvette Monique Clark) is afraid to be too vulnerable to her husband. Anita (Justine Hall) has bouts of mania and an adoring husband. Carol (Carly Sakolove) is an aging party girl with a heart of mush. Carol's younger sister, Kate (Laurie Gardner), literally and figuratively lets her hair down, revealing some of what she knows about Sharon.
If it's more like "Marriage and the Suburbs" than "Sex and the City," that's just fine. These ladies are fun, and boy, can they belt—each one is a powerhouse (which makes shy Kate's tentativeness with "At Seventeen" a little implausible at first). It's nicely appealing that none is a conventionally thin, gorgeous babe.
A flashback scene in which one of the girls is wearing her first bra may be familiar from pop culture, but you have to have grown up reading Seventeen and Sassy (before graduating to Cosmopolitan) to follow half the quick quips that float by in Louise Roche's script, here adapted by Betsy Kelso for American audiences. (Pencil under the boobs, boys!)
Sorry, fellas. But in all honesty, that shared language feels kind of nice.
Presented by Entertainment Events at the Downstairs Cabaret Theatre at Sofia's, 227 W. 46th St., NYC. May 6–June 27. Thu. and Fri., 8 p.m.; Sat., 5 and 8 p.m.; Sun., 3 p.m. (212) 947-9300 or www.girlsnightthemusical.com.