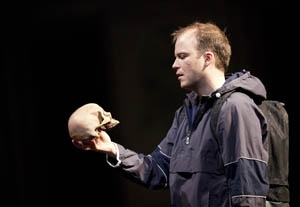 "To thine own self be true." It's probably the most familiar line in all of Shakespeare, if not in all of world literature. Yet in Nicholas Hytner's spare and harrowing National Theatre production of "Hamlet," broadcast to cinema audiences worldwide, the reading of this line is startlingly different and scary. It comes toward the end of Polonius' advice to his son Laertes, who is about to depart for France. The speech is usually played as a long-winded series of adages that Laertes good-naturedly endures until his father lovingly bids him farewell. This time, while uttering the famous words, Polonius realizes with horror that he and the tyrannical government of Denmark he serves have not lived up to his own advice.
The world of this "Hamlet" is one of constant surveillance, trickery, and deceit. Hytner and set and costume designer Vicki Mortimer have created a contemporary Elsinore where security guards with earpieces are ever present—even during the soliloquies—and no one can be trusted. In Hytner's concept, all of 'Hamlet's woes—the death of his father at the hand of his uncle; his thwarted love for Ophelia; the dishonoring of his mother, Gertrude—spring from this atmosphere of distrust and lies. The director carries his theme of a totalitarian regime crushing its opposition through the entire production, finding innovations in this best known of classics. The usurping King Claudius uses TV press conferences to present a false image of national stability. The players and Laertes' rebellious supporters become political prisoners. Ophelia eavesdrops on Hamlet with a bug planted in a Bible. If you thought you knew "Hamlet," this staging will make you think differently.
In the title role, Rory Kinnear is a fierce, blistering antihero. In addition to being intellectually curious and compassionate, this Hamlet can be as nasty and mean-spirited as his villainous uncle, yet Kinnear carefully shows us how he got that way. Not romantically handsome like most Hamlets, this rather ordinary-looking actor painstakingly documents the prince's journey from sullen boy to murderous avenger. He thinks through the speeches, giving words we've heard hundreds of times before fresh meaning.
The rest of the company similarly find new angles on oft-performed roles. Patrick Malahide's Claudius is a smooth politician, skillfully manipulating his courtiers while concealing his treachery. Clare Higgins is easily the most complex Gertrude I've ever seen, equal parts overbearing mother, self-deceiving alcoholic, ambitious royal wife, and public-relations expert. Instead of the usual senile fool, David Calder gives us a torn Polonius, conflicted between his duty to the state and his underlying repulsion at its corruption. Calder also gives an unexpectedly wry spin to the gravedigger, making him more than a comic foil. Ruth Negga charts Ophelia's descent into insanity with precision, starting with her confusion over Hamlet's neglect and culminating in desperate retreat from the ugly reality around her. Alex Lanipekun combines Laertes' rash temperament with a sweet tenderness. James Laurenson's ghost is an exhausted shell of the fiery king, and his Player King is an impassioned thespian.
At times Robin Lough's direction for the screen misses vital moments—too much of Gertrude's "There is a willow grows aslant the brook" speech is heard offscreen—and occasionally it seems as if the actors want to burst out of the cinematic frame. But Lough mostly captures the intimate nature of Hytner's production.
From the reading of a single line to the creation of a frighteningly real society based on duplicity, Hytner has rethought the most famous play in Western history and come up with a staging as new and relevant as the latest political blog post.
Presented by National Theatre Live on movie screens nationwide.For a list of remaining screenings, visit www.ntlive.com.