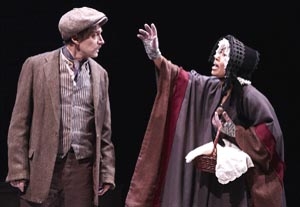 The Pearl Theatre Company has been seduced by Charles Dickens, apparently attracted by the prospect of playing larger-than-life contrasting roles in Steven Jeffreys' 1982 stage adaptation of "Hard Times." The original production featured a mere four actors; the Pearl uses six. But though all are talented, they are not well-suited to every part. The result is a three-and-a-quarter-hour slog through Dickens' shortest novel. While there are, forgive me, pearls to be found along the way, the overall result is like a long freeway drive on cruise control: You spend most of the unmodulated journey in contemplation of when you'll finally arrive at your destination.
Published in 1854 and short on his trademark humor, "Hard Times" is Dickens' only novel lacking a happy ending. It takes aim at the Industrial Revolution and its capitalistic oppression of workers, as well as the Utilitarian movement, which posited that life should be lived based solely on reason, eschewing emotion entirely.
That is how schoolteacher Gradgrind has raised his two children, the feckless Tom and the taciturn Louisa, in the depressing textile-mill city of Coketown in Lancashire, England. This world is juxtaposed with that of a tightly knit traveling circus troupe when the young Sissy, whose father performs with horses, attends Gradgrind's school. Sissy is brought up by Gradgrind after her father disappears, but she never accepts the teacher's ways. Once Louisa is grown, she marries local banker and mill owner Bounderby, a much older, self-made man with no patience for anyone who can't replicate his success. It's not a love match; Louisa means to help Tom settle severe gambling debts. Eventually, though, she meets handsome "man of the world" James Harthouse, who has gotten bored with serial careers and is now in Coketown to "go into statistics" with Bounderby. He unlocks Louisa's feelings. Throw in Bounderby's busybody housekeeper and a weaver named Blackpool who won't join a union uprising and is ultimately framed for a bank robbery and you've got Dickens' usual melodramatic stew bubbling nicely.
Among the problems of director J.R. Sullivan's spotty production are a lack of clarity about various characters' ages and the inability, due to doubling, of some characters to share the stage. The use of story-theater techniques is tentative and sporadic, and there's far too much aimless wandering while delivering swaths of narration. That narration is also a problem. When delivered omnisciently by the actors, it's dutiful and undramatic. When delivered in character, it vitiates Dickens' satirical voice.
T.J. Edwards is the most successful at inhabiting different roles, contrasting his gung-ho Gradgrind with a nicely self-effacing Blackpool. Sean McNall does well by the self-pitying Tom but can't penetrate the core of the much older Sleary, the circus owner, reducing him to artificial surface technique. Rachel Botchan has size as Louisa but is hamstrung by the character's impenetrability. Robin Leslie Brown's fussiness makes the housekeeper a cliché, but the actor is compellingly understated as Rachael, a woman who loves Blackpool. Jolly Abraham is a breath of fresh air as Sissy and does an arresting brief turn as a fiery worker, but she is utterly unequal to the role of a mysterious elderly woman. Bradford Cover dominates the proceedings as Bounderby, Harthouse, and a snippy bank clerk with an eye for advancement. The size of the roles and their disparities make for a showy turn, but Cover's effortful work never feels organic.
A 1994 BBC television adaptation, with Alan Bates as Bounderby and a young Harriet Walter as Rachael, dispatches the story in an action-packed 105 minutes. As Dickens is not about nuance or character development, audiences eager for a dramatization of "Hard Times" would likely do better to populate their Netflix queues than make a visit to City Center.
Presented by the Pearl Theatre Company at New York City Center Stage II, 131 W. 55th St., NYC. Feb. 14–March 28. Tue., Thu.–Sat., 7:30 p.m.; Wed., Sat., and Sun., 2:30 p.m. (212) 581-1212 or www.citycenter.org.