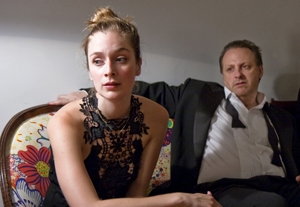 Both the strengths and weaknesses of director John Gould Rubin's production of "Hedda Gabler" come into sharp relief in this ultra-intimate environmental staging that unfolds in the parlor of a downtown townhouse. Thankfully, one of the chief assets is Caitlin FitzGerald's riveting turn in the title role, simultaneously capturing the character's zest for life and her disdain for it and for those who surround her.
In FitzGerald's performance in this modern-dress staging, Hedda becomes a woman who might very well be at home on the Wisteria Lane of "Desperate Housewives." Rail-thin and looking terrific in costume designer Andreea Mincic's chic ensembles, the actor commands attention in the cramped playing space, and often it's the littlest reaction to what's happening—an arched eyebrow or a slight flick of the hand—that reveals Hedda's innermost thoughts. Such details viewed from the distance of only a few feet, along with the scent of fresh flowers brought into the room or the smell of burning paper when Hedda deviously throws a manuscript into the fireplace, are what draw us into the production, which gorgeously illustrates how trapped Hedda is in her unhappy life and marriage.
Unfortunately, given the close proximity of audience and actor, the production's shortcomings also come glaringly to the fore. These include Burke Adams' gross overplaying of Judge Brack's lecherousness and Suellen Vance's strained turn as the maiden aunt of George Tesman, Hedda's milquetoast academic husband, whom Thom Christensen plays with both endearing cluelessness and icky egocentrism.
As Eilert Lovborg, George's professional rival (and Hedda's one-time love), Zachary Le Vey is by turns compellingly nuanced and overly melodramatic. The same can be said of Emily Best as Thea Elvsted, the woman who, much to Hedda's chagrin, has become a primary force in Lovborg's life.
But regardless of the deficiencies in these actors' work, audiences will likely savor the careful calculation with which Hedda manipulates those around her. There's something to be said for being a voyeur at such close range.
Presented at a townhouse at an undisclosed location in Manhattan.
Aug. 10–Sept. 4. Schedule varies. www.heddagablernyc.com.