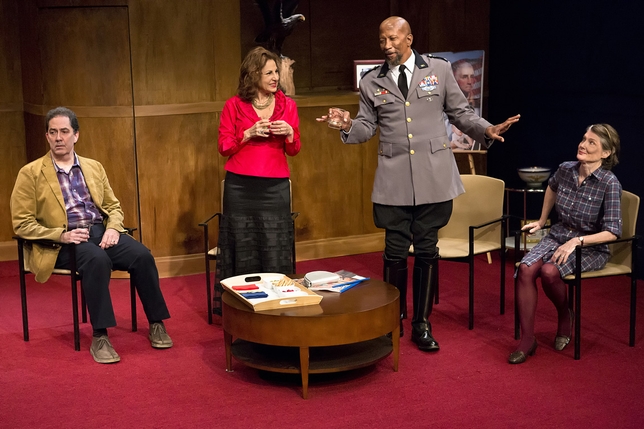 The prolific A.R. Gurney is a favorite playwright of mine, but he seems to have gotten ahead of himself with "Heresy," his latest piece of political raillery written expressly for the Flea Theater. The veteran dramatist has barged blithely on despite the fact that he apparently didn't have an idea for a play. Scattershot and unfocused, toying with naturalism and absurdity without ever committing to either or successfully blending them, this would-be satirical account of a modern-day Jesus' troubles with America's Homeland Security Department, set "sometime in the future," is tedious.
Taking place in an East Coast government office known as the "Liberty Lounge"—scenic designer Kate Foster has fun with the red, white, and blue color scheme and dully institutional patriotic décor—"Heresy" begins with salt-of-the-earth Joseph, who owns a carpentry business, and his caustic wife, the politically active, left-wing Mary, being ushered in by open-faced, sunny intern Mark. It seems that their son, Chris, has been snatched from his California dorm room by U.S. governmental emissaries and is being held incommunicado they know not where. Nor do they know why Chris has been arrested. They have come hoping that their old friend Pontius Pilate, now a high-ranking prefect in the National Guard whom they haven't seen in years, will be able to provide answers and spring Chris. Ponty—as he used to be known before acquiring power—arrives with alcoholic wife Phyllis in tow, prepared to reminisce about the good old days. Ponty's investigation dredges up Chris' roommate, the earnest, well-mannered Pedro, and the spunky Lena, a former prostitute and now Chris' girlfriend. It turns out that Chris, captain of the debate team at his Catholic college, got into hot water for expressing anti-religious and anti-establishment views. His passionate rants somehow ended up on YouTube and generated death threats, so the earnestly religious Pedro turned him in to Homeland Security for his own protection. Now Ponty has to decide whether it's in his—and the country's—best interests to get Chris out.
Gurney's obvious Biblical parallels are too cute by half and never add up to anything, while his curtain line traffics in one of the hoariest clichés around: If Jesus came today, society would once again reject him. Under Jim Simpson's indulgent direction, the overqualified seven-person cast can do little with the limp material. Kathy Najimy looks for laughs in Phyllis' rising alcohol level and blithe narcissism and finds a few. Reg. E. Cathey's pompous and prissy Ponty lacks menace. Steve Mellor is a suitably modest Joseph, but Annette O'Toole pushes Mary's sourness too hard. Tommy Crawford (Mark), Danny Rivera (Pedro), and Ariel Woodiwiss (Lena) are attractive young talents who keep forcefully striking the one note Gurney gives them to play.
I found myself agreeing with a number of Chris' indictments of contemporary America, as related by Pedro, but social criticism is not drama, and neither is "Heresy."
Presented by and at the Flea Theater, 41 White St., NYC. Oct. 11–Nov. 4. (212) 352-3101, (866) 811-4111, www.theatermania.com, or www.theflea.org.
Critic's Score: F