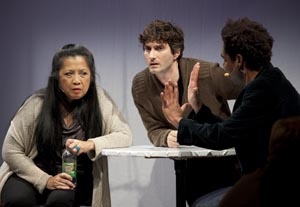 The title of Kirk Lynn's "How Much Is Enough?: Our Values in Question" is potentially misleading. In a year when anger is being translated into action on an international scale, I expected a rabble-rousing evening in which spectators measure their capacity to tolerate nationally sanctioned injustices. Instead, the experience is gentler, like leaving a noisy day at the office for an unusual group-therapy session.
The evening begins with Marissa (Mia Katigbak), a middle-aged woman with long hair and a gentle face, calling for a collective prayer. She's accompanied by Carlo (Noel Joseph Allain), a curly-haired innocent who tells us he's about to become a father and is visibly nervous, and by Freddie (Carl Hancock Rux), who is about Carlo's age and has the mellifluous voice and sturdy bearing of a secular priest. The trio's task is to inspire an evaluation of the objects and choices we take for granted by posing questions, sometimes to the group and sometimes to individuals, about our histories and our aspirations. A projection screen, operated by a "Googler" (Mohammad Yousuf), projects relevant and occasionally shocking statistics about, say, the cost of giving birth or the current poverty rate.
With its underlying tone of self-help camaraderie, "How Much" can feel treacly at times. But a cynical dismissal would overlook how, despite its weaknesses, the show manages to defamiliarize our everyday landscapes. A pile of coins, a neighbor's hand, a glass of orange juice, a day off are all, over the course of the evening, made to seem both magical and consequential. The silent answers we find ourselves offering to the performers' questions can be revelatory. Though the evening might leave more spectators wanting to call their moms than visit Zuccotti Park, those phone calls are likely to be freshly thoughtful and, yes, socially conscious. And that's worthwhile, if you ask me. 
Presented by and at St. Ann's Warehouse, 38 Water St., Brooklyn, N.Y. Nov. 13–27. Tue.–Sat., 7:30 p.m.; Sun., 2 and 7 p.m. (No performance Thu., Nov. 24.) (212) 352-3101, (866) 811-4111, www.theatermania.com, or www.stannswarehouse.org.