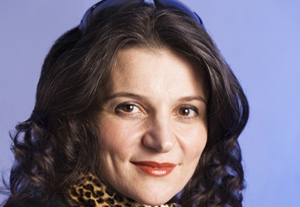 Antoinette Lavecchia's one-woman show about her struggle to embrace her cultural heritage would have been a lot funnier if Bea Arthur's Dorothy Zbornak hadn't done it better on "The Golden Girls." Everything, from the guilt-inducing mother to the myriad ways of twisting the word "Ma" to suit any purpose, is included in "How to Be a Good Italian Daughter," resulting in a show that feels as fresh as a jar of Ragu.
Lavecchia is an undeniably talented performer, and she hurls herself with abandon into the various characters she's created in her exploration of what it means to be Italian, including her own mother. But why hasn't Ted Sod been more hands-on as director? He doesn't seem to have mentioned to Lavecchia that her little-girl voice is eerily reminiscent of Little Edie Beale's speech patterns, or that her impression of a devil—which includes scuttling around the stage grimacing and licking her face before miming defecating into her hands and smearing it on an audience member—is both vulgar and too long, or that the voice she uses for her singing vagina (don't ask) is that of a stereotypical African-American woman. Without a strong directorial hand, Lavecchia runs wild on stage, and the show feels limp and shapeless. 
Deficient as Sod's work is, it's Lavecchia's script that presents the insurmountable problem: There's apparently nothing fresh to add to the subject of being Italian in America. The show is almost a checklist of clichés, from that guilt-inspiring mother to a tedious sequence from an imaginary Italian musical. Without anything new to say, "How to Be an Italian Daughter" must take its place in the long list of self-indulgent one-person shows. Here's hoping the talented Lavecchia gets a job that allows her to leave this lackluster effort behind.   
Presented by Jones Street Productions at the Cherry Lane Studio Theatre, 38 Commerce St., NYC. Oct. 12–Dec. 20. Thu.–Sat., 7 p.m.; Sat. and Sun., 3 p.m. (212) 239-6200, (800) 432-7250, or www.telecharge.com. Reviewed by Mark Peikert