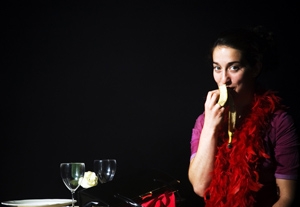 Actor Ben Lewis is a brave fellow. Not only did he choose this critic for an audience-participation bit in "Hysteria," a piece of extremely English comic frippery suggested by a T.S. Eliot poem, but he made fun of my notepad. That's all right. All's fair in love and theater. In any event, the bit was an entirely appropriate cog in this lightweight yet undeniably funny exercise in existential comedy. If you're a fan of Monty Python, "Fawlty Towers," and "Little Britain," you're likely to enjoy this more cerebral entry in that humorous vein. If not, well, it only lasts 55 minutes.
Lewis and fellow actors Lucinka Eisler and Giulia Innocenti are the artistic-director triumvirate behind Inspector Sands, a young U.K. company specializing in physical theater. (The two women trained in Paris at the Jacques Lecoq school.) In this three-character work, an obsessive-compulsive waiter serves two extremely nervous potential lovebirds on their first date. Much of the comedy comes from the juxtaposition of their inner angst with their surface politesse. There's a great deal of highly stylized physical action, used to illuminate the characters' interior lives, as well as an imaginative sound design by Carolyn Downing and Adrienne Quartly that offers its own running commentary. Katharine Williams' razor-sharp lighting provides the necessary focus on Yukiko Tsukamoto's spare but well-chosen set, and Suncana Dulic's deceptively ordinary contemporary costumes successfully complete the picture.
The actors play off and with each other skillfully. Eisler is a riot at the start as her character prepares for work, standing in the bathroom in waiter drag counting all her body parts, beginning with the teeth. Her popping eyes and glazed countenance make a wonderful complement to the rushing soundtrack of thoughts of global-warming disasters we hear running in her head, and the elaborate way she serves champagne is great fun. Lewis locates his character squarely in the tradition of nebbishy chinless Englishmen and establishes a charming rapport with the audience when addressing it. His attempts at elaborate arm-waving exercises intended to combat stress are both funny and, surprisingly, suddenly touching. Innocenti wins us over immediately with a little shrug of sexual energy as she hoists her bag over her shoulder and saunters off to the restaurant. What she does later with a red feather boa and a banana is priceless.
It's the interplay between the dating couple that carries the evening. Lewis and Innocenti score consistently with this, whether having a cross-purposes argument about turkey (he means the bird; she means the country) or conveying surging sexual desire as he feeds her birthday cake in little forkfuls. Always hovering, Eisler sounds comic grace notes with flair.
The show bogs down a bit along the way, mostly due to the repetitive nature of the comedy. Fortunately, it picks up nicely for a strong finish. Next week Inspector Sands opens another show, "If That's All There Is," in which "a couple teeter on the brink of marriage." I'm looking forward to it, and Ben, I'm bringing my notepad.
Presented by Inspector Sands, in association with Stamping Ground, as part of Brits Off Broadway at 59E59 Theaters, 59 E. 59th St., NYC. Dec. 12–26. Schedule varies. (212) 279-4200 or www.ticketcentral.com.