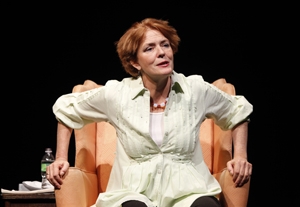 Writer-performer Jenny Allen makes her entrance ambling down the center aisle with the house lights still up in New York Theater Workshop's tiny upstairs theater. At first you think she may be a patron, but her bare feet give her away. She stops to chat with audience members. Once she hits the stage, she makes small talk about the air conditioning and delivers her own cell phone announcement. She thanks everyone for being here and remarks that if the situation were reversed, she might not choose to attend a one-woman show about battling endometrial and ovarian cancer. The informality is both charming and just a little off-putting: Is she serious about this or not? But once Allen launches into her story, you realize how canny her opening has been. We've already come to view her as a real person, not an actor, and this perception remains firmly in place for the rest of this beguiling 90-minute piece. By the time you're sent home, you feel as if Allen is one of your best friends, and you want to call her up and make plans for Sunday brunch.
Cancer, of course, is no laughing matter, but that doesn't stop Allen from providing a generous amount of humor in this brave and knowing recounting of her joust with death. She's an imaginative, evocative writer—"I looked like a dandelion going to seed," she remarks about losing her hair during chemo—and a sharp observer of others, providing particularly acute portraits of her husband, author and cartoonist Jules Feiffer, and her two daughters with Feiffer: Halley, an actor, and Julie, a ninth grader. Gratifyingly, she gives herself no quarter: "I liked suffering alone and being angry," she says as she details what a handful she was for her family at certain points in her battle. As the title suggests, Allen ultimately beat both her cancers, though she had a hard time allowing herself to accept victory.
Directors James Lapine and Darren Katz have worked with admirable invisibility to help shape the material and present Allen with such unselfconscious élan. David Lander's lighting shifts are crucial in reinforcing mood, and his row of yellow lights shining from the back wall for a very funny sequence about a raw-food retreat in Lemon Grove, Calif., are wonderfully witty. The uncredited set of four disparate homey chairs and a side table nicely reinforces the evening's informality.
As someone currently dealing with prostate cancer (thankfully, much less virulent than what Allen faced), I must admit I wondered if seeing "I Got Sick Then I Got Better" might prove disturbing. Just the opposite was true. Allen's warts-and-all look at her experience celebrates the resiliency of the human spirit, and I was glad to be reminded of it. What's more, I still want to do brunch.

Presented by and at New York Theatre Workshop, 83 E. Fourth St., NYC. Oct. 19–Nov. 15. Thu. and Fri., 8 p.m.; Sat., 2 and 8 p.m.; Sun., 2 and 7 p.m. (Additional performance Mon., Nov. 9, 7 p.m.) (212) 239-6200, (800) 432-7250, or www.telecharge.com.