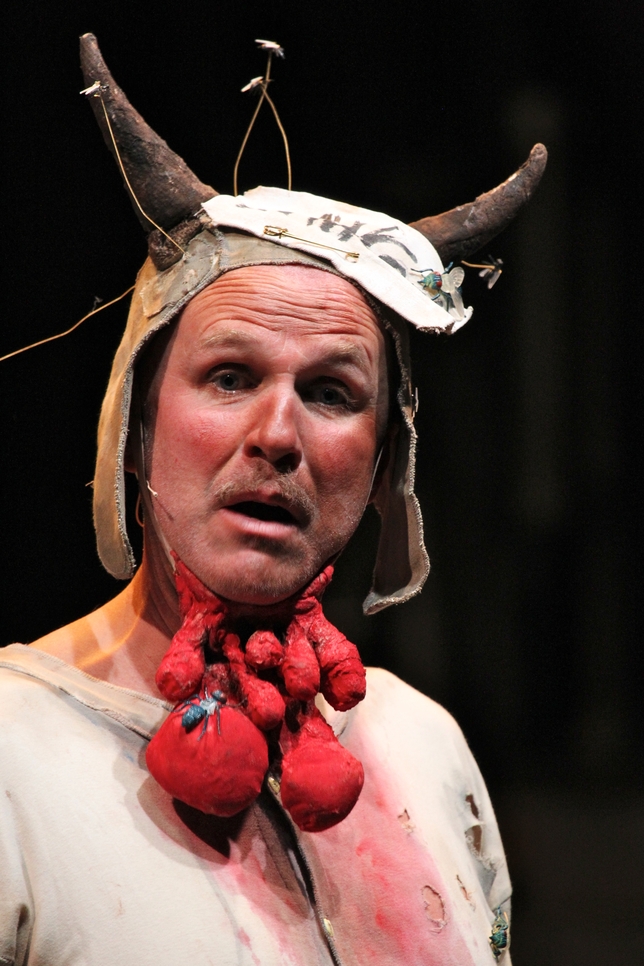 "I, Malvolio" is the latest in a series of solo Shakespearean pieces that Tim Crouch has created and performed. Previous works include "I, Caliban" ("The Tempest"), "I, Peaseblossom" ("A Midsummer Night's Dream"), "I, Banquo" ("Macbeth"), and "I, Cinna" ("Julius Caesar"). Crouch's original and worthy concept is to give a view of each Shakespearean play through the eyes of one of the characters, often a minor one. With children 11 and up in mind, Crouch explores Will's masterpieces from another direction, shaking off the dustiness of past treatments. He is an industrious creative writer and a skilled and sly performer intent on pushing the theatrical envelope.
Malvolio's vehement final line is "I'll be revenged on the pack of you!" Crouch begins with it, and the threat becomes a mantra throughout the play. We meet the bitter, defeated, vengeful Malvolio ranting against the world. He is dressed in torn and soiled undergarments, on his head is a cock's comb, and his back is bedecked with signs reading "Turkey Cock"' and "Kick Me." Completing the costume are the remnants of the famous yellow cross-gartered stockings. With the house lights full on throughout, Malvolio rails against the audience, pointing out several would-be Sir Tobys and demanding that the whole pack of us sit up straight (and we do!). Crouch, with his lanky frame and angry delivery, often seems like John Cleese's Basil Fawlty with a graver purpose.
Crouch has chosen to make Malvolio into a prudish puritan, a man who seeks law and order in an anarchic world. His second oft-repeated mantra is "I am not mad," with insanity becoming a continuing theme. The actor is not above the old Judy Garland trick of leaving the stage for a minute in order to be welcomed back, but this Malvolio returns with a noose, and we witness the dubious task of having two young attendees assist in a possible hanging. Much more successful is the treatment of the play's dizzy plot as a form of madness and the expression of Malvolio's genuine love for Olivia. Both give the enterprise substance and could be developed further.
Crouch's Malvolio is a hater of theater, which cleverly sets up an intriguing irony. It also, however, raises the question of just who is the audience for this 60-minute piece? Certainly a prior knowledge of "Twelfth Night" is necessary. (The woman seated next to me assiduously read her program throughout as if a secret there might explain the strange happenings onstage.)
Crouch's concept has a curious split personality, with Malvolio's rant in a tug-of-war with the good spirits of the young assemblage. Despite Crouch's cleverness and talent, the battling elements of cool sophistication and youthful warmth never quite jell into an authentic dish.
Presented by the New 42nd Street and the New Victory Theater at the Duke on 42nd Street, 229 W. 42nd St., NYC. Jan. 11–20. (646) 223-3010 or www.newvictory.org.
Critic's Score: B