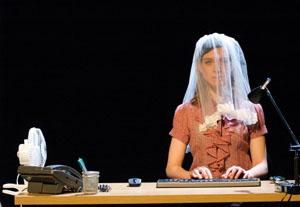 That thumping sound you hear is my heart in overdrive. I've fallen head over heels for the young British company Inspector Sands and the anarchic sense of humor it employs when contemplating Life. Represented by two shows in the Brits Off Broadway festival at 59E59 Theaters—
"Hysteria," which I saw last week
, and now "If That's All There Is"—these specialists in physical theater are a bracing blast of fresh air, certain to bring color to even the most wan of cheeks.
Each piece takes an emotionally fraught situation and explodes it. In "Hysteria," it's a nervous first date between two co-workers. In "If That's All There Is," we have a young couple, Frances and Daniel, planning their marriage while struggling with second thoughts. Her increasingly odd behavior—when she isn't obsessively watching Spanish-language soap operas without understanding a word, she's rearranging the furniture in their apartment—sends him to a therapist for an explanation. Of course, he doesn't realize that he's the one who'll end up being analyzed. Along the way we get dancing, gunshots, cake, document shredders, beer chugging, and some pop songs, most of them sung by Peggy Lee, whose iconic recording of Leiber and Stoller's "Is That All There Is?" gives the show its title. The proceedings are only vaguely linear and rarely naturalistic, yet it all makes a crazy sort of sense. Creators and performers Lucinka Eisler, Ben Lewis, and Giulia Innocenti never commit the common avant-gardist error of mistaking opacity for profundity. To paraphrase the great Dorothy Loudon, they're never too hip for this room. 
Lewis' Daniel is a variant on his mild-mannered, blank-faced bureaucrat from "Hysteria," though the actor gets to mix it up a bit when the shrink transforms Daniel into a gun-toting cowboy. A senior project manager, Daniel treats life like a PowerPoint presentation, and he's never funnier than when earnestly presenting the facts on his fiancée to the therapist while utilizing visual aids. Eisler, whose waiter in "Hysteria" never speaks, proves she can handle dialogue too as Frances, excelling in a long monologue that the character, who works in market research, titles "The 29th Amazing Lunch Hour of Frances Hayes." But Eisler's just as eloquent in the long, slow burn Frances gives as Daniel prattles on and on at their wedding reception. Innocenti does double duty this time out, as both the therapist and an intimidated teenage intern working for Frances. She's a hoot scuttling between roles by adding a shirt and changing shoes, and the inexhaustible supply of inflections she finds for the word "yes" when playing the therapist is an unending source of pleasure. 
Set designer Yukiko Tsukamoto once again provides the perfect, carefully considered environment, and this time out she also contributes the appropriate contemporary costumes. Jack Knowles has come up with the highly targeted lighting, which works hand in glove with the text in crucial ways, and Carolyn Downing again creates a sound design that's practically a character in itself. 
As with "Hysteria," the show occasionally begins to feel as if it's running in place, but soon enough something imaginative happens to jolt it further forward. The troupe is right to keep these works brief (at 70 minutes, "If That's All There Is" is a quarter of an hour longer than "Hysteria"), but they need to be a bit more rigorous with themselves as editors or find an outside eye to do it for them. Nevertheless, when the show ends with an indelible image that's not only unfailingly right but satisfyingly inevitable, you know that these artists possess the discipline necessary to serve their considerable talent.     
Presented by Inspector Sands as part of Brits Off Broadway at 59E59 Theaters, 59 E. 59th St., NYC. Dec. 19–Jan. 2. Schedule varies. (212) 279-4200 or www.ticketcentral.com.