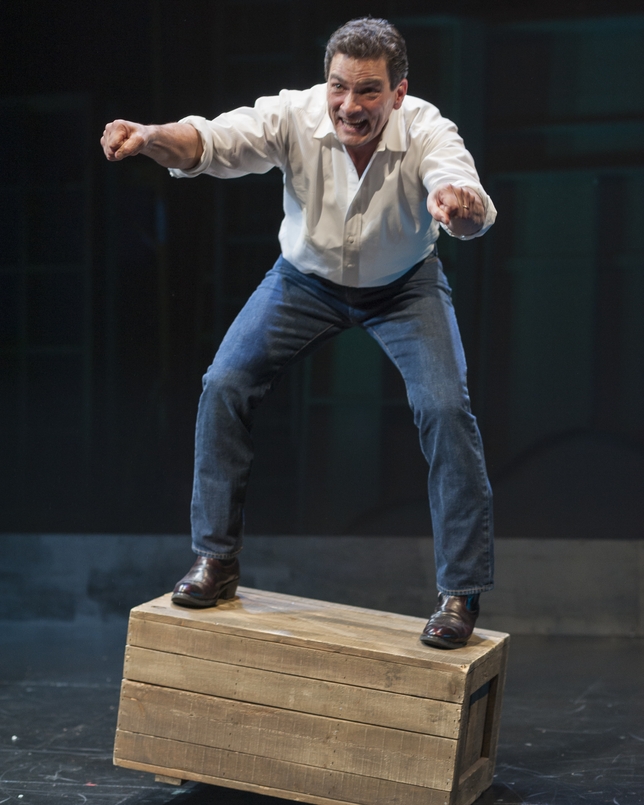 Having seen the DVD of Ian McKellen's superb 1982 one-man show "Acting Shakespeare," in which the brilliant British actor intersperses autobiographical anecdotes and information about Shakespeare among stirring renditions of the Bard's famous monologues, I was fearful that James DeVita's reinvention of the show, "In Acting Shakespeare," would disappoint in comparison. Yet while DeVita's performances of Shakespeare's speeches pale (as almost any actor's would) in the shadow of McKellen's authoritative command of Shakespearean acting, "In Acting Shakespeare" is a splendid, delightfully personal comedic concoction.
Imaginatively written and performed with zest and honesty by the endearing, handsome DeVita, the show maintains the basic format of the original but replaces McKellen's academic, analytical focus on understanding Shakespeare's work with a wide-eyed curiosity about the personal circumstances of Shakespeare's life. While McKellen's show is an enlightening lesson on how to act Shakespeare, DeVita's is an entertaining demonstration of how Shakespeare's work triggered the performer's unlikely transformation from a Long Island fisherman into a late-blooming actor-playwright, currently based in Wisconsin at the American Players Theater, a classical repertory company.
While he offers a few straight performances of short selections from Shakespeare's plays, as well as side-splitting parodies of awful, overblown renditions of the same, most of the text of DeVita's hysterically funny show is written by him. It includes riotous re-enactments of his auditions for university acting programs and summer theaters alongside fictionalized scenes that he imagines Shakespeare endured as an aspiring Elizabethan playwright. The latter are fantasies from which DeVita clearly takes inspiration, employing them to parallel and magnify the emotional contours of his own personal journey. DeVita is a talented conjurer of amusing characterizations and impressions, his depictions of acting professors, directors, and voice teachers will have anyone in the business in stitches, and his McKellen is spot-on.
Though seeing McKellen's show proved a watershed event that turned DeVita toward a life in the theater, one of the finest segments of "In Acting Shakespeare" is his dramatization of his previous career as first mate on a fishing boat. Told with a winning blend of humor and pathos that recalls Mark Twain's "Life on the Mississippi," DeVita's fascinating sea-faring scene is, sadly, too brief. The nearly two-hour evening, however, is chock-full of poignant episodes that will touch and enlighten anyone with an interest in the expression of human drama through language. The show only dissipates a bit in its final moments, when DeVita fails to find a convincingly universal flourish to cap his intensely personal journey.
He also needs to hire a costume designer. Though DeVita arrives onstage wearing a black blazer, he immediately removes it and performs the entire show in jeans, brown leather cowboy boots (the appropriateness or significance of which completely escapes me), and a white button-down tailored shirt, the kind that looks naked without an accompanying business suit and tie. How about an attractive black or colored top, decent pants, and a more sophisticated, or at least sensible, pair of shoes?
Presented by and at the Pearl Theatre Company, 555 W. 42nd St., NYC. Jan. 13–Feb. 3. (212) 563-9261 or www.pearltheatre.org.
Critic's Score: A