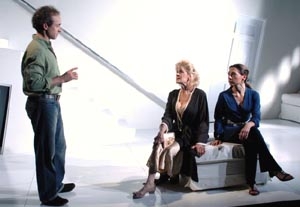 I'll never understand why so many writers can't get out of their own way. Take Tony Glazer, an obviously talented playwright with a penchant for witty zingers and hearty American family drama. It might well be possible to combine the two—his last effort, "Stain," showed signs of doing just that—but in "In the Daylight," his big themes and his milieu of family reunion, serious boozing, and dark secrets percolating are rendered ridiculous by a left turn into tawdry potboiler territory.
Up to that point, the play isn't exactly problem free. There's never much tension in this tale of novelist Marty (Joseph Urla) and his homecoming to family horrors. We're told time and again how something terrible happened "upstairs," but we don't really feel the darkness at the top of those stairs. And, I have to wonder, if Marty only left home six years ago after his father's mysterious death, why does he appear to be well into his 40s? Isn't that a little late to leave the nest and start a new career?
Still, it's possible for a while to overlook the large plot holes and the unfocused direction from John Gould Rubin. A lot can be forgiven on account of sharp dialogue. On the subject of addressing clueless fans: "I'm going to have to start making my comments a little more retard friendly."
The cast—which also includes Concetta Tomei as Marty's own Mommie Dearest, Sharon Maguire as his hard-bitten sister, and Jay Patterson as dad's skulking specter—handles the material well enough. Scenic designer Christopher Barreca contributes nice atmospherics with an angled black-and-white set that looks like the Titanic frozen in mid-sink.
But when, like that topsy-turvy set, you're just barely maintaining balance, why resort to that tired convention—The Mysterious Stranger (Ashley Austin Morris)—to come in, strip off a mask, wave a gun, and pick apart a yarn that was just lying there anyway? It's all a bit Scooby-Doo, but not in the good way. Actually, it's a bit Scrappy-Doo.
Genre mixing can be tremendously effective, but there has to be a reason for it. Self-sabotage isn't good enough.
Presented by Choice Theatricals in association with Vital Theatre Company at the McGinn/Cazale Theatre, 2162 Broadway, NYC. Sept. 20–Oct. 11. Tue.–Fri., 7:30 p.m.; Sat., 4 and 7:30 p.m.; Sun., 7 p.m. (212) 579-0528 or www.vitaltheatre.org. Casting by McCorkle Casting.