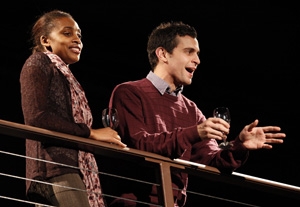 "In the Footprint: The Battle Over Atlantic Yards" is most likely going to touch New York theatergoers' hearts more than any of the Civilians' previous works, as its subject—the controversial plan to use the Atlantic Yards in Brooklyn for a sports complex for the New York Nets basketball team—can move not only those individuals who live in the potentially affected area but any New Yorker with a sense of pride about his or her neighborhood.
Steve Cosson and co-writer Jocelyn Clarke have expertly curated the views and feelings (taken from interviews and the public record) of a wide array of people about the plan to use eminent domain to secure the land for the development. As director, Cosson proves equally deft at deploying his six-member ensemble in the cleverly chosen space that's not only a stone's throw from the spot where the development is to take place but also a converted gymnasium ripe for a game of hoops. It's impossible not to feel the irony of it all as the company moves like a drill team through the show, rapidly switching between roles.
The show's characters include public figures such as Borough President Marty Markowitz, architect Frank Gehry, and rap star Jay-Z as well as community activists and neighborhood residents. The company (Matthew Dellapina, Donnetta Lavinia Grays, Billy Eugene Jones, Greg McFadden, Simone Moore, and Colleen Werthmann) consistently delivers these individuals' words with passion, but a lack of specificity in characterization sometimes leads to confusion.
Interspersed with the spoken passages, which provide a picture of a project that has a host of similarly convoluted constitutional issues at its heart, are some exceptional songs by Michael Friedman, including a wittily conceived "kiddie" song that attempts to make sense of the morass of acronyms for the various governmental agencies involved with the project. It's a tune that inspires both smiles and winces, much like this show's subject itself.

Presented by the Civilians at the Irondale Center, 85 South Oxford St., Brooklyn, N.Y. Nov. 22–Dec. 11. Mon., 7 p.m.; Tue.–Sat, 8 p.m. (No performances Thu.–Sat., Nov. 25–27; additional performance Sat., Dec. 4, 2 p.m.) (212) 352-3101, (866) 811-4111, www.theatermania.com, or www.thecivilians.org. Casting by Paul Davis and Calleri Casting.