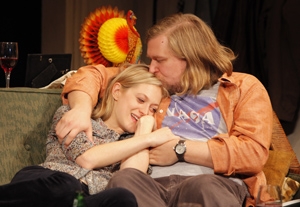 "Wow! I talk a lot," declares Ellen, the passionate protagonist of "In the Wake," Lisa Kron's earnest but word-heavy political drama at the Public Theater. Despite some intense performances, smart direction from Leigh Silverman, and eloquently expressed ideas, the overabundance of talk is what chiefly emerges.
Like Susan Traherne, the dysfunctional heroine of David Hare's "Plenty," which was also produced by the Public, Ellen is a fiercely committed activist whose untempered social idealism ruins her life and those of her friends and family. But unlike the gloriously scary Susan, Ellen is a bit of a nag and a whine. Spanning the eight years of the George W. Bush administration, "In the Wake" draws a rather unsubtle parallel between the chaos in Ellen's personal life and the breakdown in national discourse. Beginning with a Thanksgiving dinner during which the 2000 presidential election debacle unravels on CNN, Ellen (Marin Ireland) and her circle debate the hot-button issue of the moment. There's her unmarried partner Danny (Michael Chernus), a teacher; Danny's sister Kayla (Susan Pourfar), Ellen's co-worker in the nonprofit sector; Laurie (Danielle Skraastad), Kayla's lesbian lover, who seems to exist chiefly to disagree with Ellen; and Judy (Deirdre O'Connell), Ellen's bitter friend, an aid worker in various African hot spots. When Ellen begins an affair with filmmaker Amy (Jenny Bacon), the play takes a soap-operatic turn and never really recovers.
Too often these characters come across as talking heads representing points of view rather than flesh-and-blood people in conflict. One character—Tessa, Judy's half-African-American teenage niece—is so obviously a device, there to bring up racial topics, that it's a wonder young Miriam F. Glover is able to make her presence seem remotely plausible. All the actors valiantly strive to bring verisimilitude to their characters, but their stimulus packages aren't always enough.
This is a bit of a letdown from Kron, whose previous plays include "2.5 Minute Ride," an insightful autobiographical solo piece, and "Well," her fourth wall–breaking rumination on health care and community commitment, which was one of the best works of 2004. But there is still much to savor here. It's always refreshing to hear an American playwright tackle politics, a topic rarely broached on or off Broadway, and Kron has a good deal to say; it's just a pity she's saying it in boldface type and capital letters.
As the loquacious Ellen, Ireland continues to astonish after breakthrough performances in "Reasons to Be Pretty" and "After Miss Julie." She runs through a dozen different reactions and nuances in a single sentence—and Ellen has hundreds of those—without seeming excessive. That's because each moment is honestly felt and expressed. But the show is stolen by O'Connell, playing the cynical Judy, the polar opposite of O'Connell's cheerful drama teacher in last season's "Circle Mirror Transformation." As written, the character is a jagged little pill, but the actor finds the compassionate humanity beneath Judy's leathery exterior. O'Connell gives her a deadpan face and voice and moves as though Judy were always in pain, yet the veteran performer is always vibrantly alive and constantly pushing toward Judy's objective of helping the most people possible. During O'Connell's climactic scene with Ireland, in which Judy and Ellen espouse their conflicting views of American democracy, the play briefly becomes a heated confrontation between flawed friends rather than the stage equivalent of "Meet the Press."
David Korins' naturalistic East Village apartment set could have been lifted from a building just a few blocks from the theater, and Alexander V. Nichols' lighting, projections of newspaper headlines, and video images add to the overall documentary feel. What's missing is the human element to take us beyond political debate and into believable drama.

Presented by and at the Public Theater, 425 Lafayette St., NYC. Nov. 1–21. Tue. and Sun., 7 p.m.; Wed.–Sat., 8 p.m.; Sat. and Sun., 2 p.m. (212) 967-7555 or www.publictheater.org. Casting by Jordan Thaler and Heidi Griffiths.