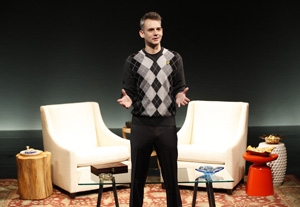 Theater in its purest form is on view at the Vineyard Theatre with Zach Helm's "Interviewing the Audience." Employing the basic template created by monologuist Spalding Gray in his same-named series of performances, Helm selects three members of the audience to chat about their lives, memories, and aspirations. Helm, a writer whose screenplays include "Stranger Than Fiction" and "Mr. Magorium's Wonder Emporium," varies from Gray in one vital way: While Gray would ask his subjects a series of preset questions, Helm employs only one standard query—"What brings you to the theater tonight?"—and then allows the conversation to proceed from there.
Each performance is going to be spontaneous and unique, so I can only evaluate the one I attended. Helm chose three interviewees with artistic backgrounds: a set designer who also manages a Starbucks to pay the rent, a director-actor who creates children's theater, and a painter who divides her time between Manhattan and Martha's Vineyard. With gentle prodding, our host, an amiably low-key fellow, drew out pointed observations from his guests on their work habits and family relations. Stitching together small details from their odd recollections, Helm created a beautiful tapestry of impressions. The set designer recalled as a child having to earn enough money to pay for a pet iguana. Helm then observed that this early discipline probably developed the designer's strong work ethic. The director sweetly spoke of her extended family's musical get-togethers and how they influenced her art. The artist reflected on the smallness of her studio spaces on the Upper East Side and in Massachusetts and the varying inspirations each location provides. She also observed that the limited access hours of her Manhattan studio forced her to be more businesslike about her art.
Some moments were incredibly moving, as when the director lovingly recalled the names of each of her numerous cousins. Another came after the artist explained how she and her husband had taken the long drive to Martha's Vineyard in almost total silence and both felt perfectly content. Helm requested that we all re-create that silence, and for several moments performer, interviewee, and audience were bonded in mute, relaxed contemplation. The silence demonstrated that you can make theater out of anything.
Kevin Adams, listed as scenic and lighting consultant, presumably provided the homey living-room atmosphere. My only quarrel with this gentle and amusing experience was its brevity. At only 70 minutes, there was definitely time for one or two more members of the audience to share the extraordinary beauty of their everyday lives.
Presented by and at the Vineyard Theatre, 108 E. 15th St., NYC. Feb. 10–27. Mon. and Tue., 7 p.m.; Thu. and Fri., 8 p.m.; Sat., 5 and 8 p.m.; Sun., 3 p.m. (212) 353-0303 or www.vineyardtheatre.org.