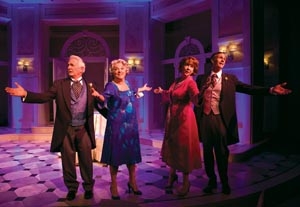 Remember "Bridget Loves Bernie"? For those of you too young to recall the 1970s CBS show, it was a short-lived, critically panned comedy deriving its humor from the stereotypical portrayals and culture clashes of the extended families of a young Jewish-Catholic couple. It wasn't funny then and it's not funny now. Apparently no one told this to the authors of "It Shoulda Been You," a cliché-ridden musical now playing at the George Street Playhouse in New Brunswick, N.J.
The tired plot revolves around the chaotic wedding of Rebecca, who is Jewish, and Brian, who is Irish Catholic. The twist involving several members of the wedding party coming out as gay does not make the proceedings any more relevant or fresh. In fact, it adds to the script's datedness. After all the obsolete gags about overbearing mothers, keeping kosher, Irish alcoholism, and unmarried sisters, we are treated to routines about gays pushing 30 shocking their parents by revealing their sexuality out of the blue. Didn't that go out about 20 years ago?
So how did such a limp show find its way to a prominent regional theater? Probably because of the major talent attached. The book and lyrics are by Brian Hargrove, a television writer and producer and the life partner of Emmy- and Tony-winning actor David Hyde Pierce, who is making his directorial debut. The cast includes such top-level names as Tyne Daly, Richard Kline, Howard McGillin, and Hyde Pierce's "Frasier" castmates Harriet Harris and Edward Hibbert. The choreographer, Noah Racey, appeared on Broadway with Hyde Pierce in "Curtains," and the design team includes top-drawer Broadway veterans Anna Louizos (set), William Ivey Long (costumes), and Ken Billington (lighting).
Fortunately, the score, by composer Barbara Anselmi, Hargrove, and five additional lyricists (Jill Abramovitz, Carla Rose Fisher, Michael L. Cooper, Ernie Lijoi, and Will Randall) offers offbeat, unexpectedly quirky charms. Anselmi's music does reference Sondheim here and there, but her tunes have originality, spark, and snap. Hargrove's lyrics are more inventive than his dialogue. In a comic number for the unflappable wedding planner (the reliably martini-dry Hibbert), Hargrove rhymes "trooper" with "chuppah" and delivers one of my favorite song lines of 2011: "Rabbi Schwartz and Father O'Shannon/Somebody shoot me with Pachelbel's Canon."
There are also several dynamic numbers for Jenny (a glorious Lisa Howard), the overweight sister of the bride. In a clever move, she opens the show with a sharp lament on the madness of weddings ("I Never Wanted This," with lyrics by Cooper), but we soon find out she's not the one getting hitched, only the one who has to do all the planning. Howard also gets to cut loose in the second act with a showstopper of a blues number. But these bright spots fail to redeem the overall shoddy package.
The stellar ensemble on stage and the creative artists behind the scenes do a magnificent job of putting the uneven material across. Hyde Pierce employs Louizos' fluidly elegant set to give the action an almost cinematic quality, moving effortlessly among a dozen different locations in a swank Manhattan hotel and even spilling into the audience. In addition to Howard and Hibbert, the company is delightful. Daly transforms the bossy-mother character into an individual rather than a punch line. Harris takes Hargrove's weak lines and sends them soaring with her perfect attack and timing. Jessica Hershberg movingly delivers a ballad on the perils of coming out. David Josefsberg lends sturdy support as an ex-boyfriend of the bride.
Presented by and at George Street Playhouse, 9 Livingston Ave., New Brunswick, N.J. Oct. 14–Nov. 6. Schedule varies. (732) 246-7717 or www.georgestreetplayhouse.org. Casting by Jay Binder/Mark Brandon.