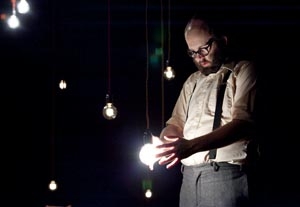 Daniel Kitson could read the phone book and make it engaging, touching, and humorous. He has an impressive knack for storytelling, with a frank, comic, self-conscious style. While the plot of his latest piece, "It's Always Right Now, Until It's Later," sounds odd and uninteresting on the surface, Kitson transforms the seemingly unrelated stories of two people's lives into a philosophical examination of human experience.
"I am by no means an actor," Kitson states at the casual beginning of this 90-minute one-man show. "I'm a different sort of thing." He walks out onto a stage filled with hanging light bulbs—a creative lighting design by Rob Pell-Walpole and Kitson—just as a folksy-sounding song ends. He usually walks out in midsong, he says, but he's timed it wrong this evening, acknowledging the show's awkward start. Kitson peppers this same self-awareness throughout the show, calling out the audience for not laughing at certain lines that generally win a chuckle and even changing words in his story to account for his stutter. "If it makes you even remotely uncomfortable," he says to the audience, leaving a long pause, "then you are a bigot." It's this brash charm that makes Kitson so endearing.
He calls his works "story shows," and the tales here are of Caroline Carpenter and William Rivington. They're Kitson's fictional creations, and the only resemblance they bear to reality is the piercing insight of their stories. Kitson alternates between the two, telling Caroline's life from birth to death and William's in the opposite direction. There is nothing to make these characters particularly compelling, but Kitson uses their existence to comment on the mediocrity that everyone shares. He illustrates their lives in moments—of which there are billions in a lifetime—and muses on the impossibility of capturing every one "like dust in sunlight." The hanging light bulbs represent these moments, and one is illuminated for each event as he weaves his way through them, stitching an insightful, comic commentary on the meaning of life.
In one particular instant, 39-year-old William is on a first date and having the same getting-to-know-you conversation for what feels like the thousandth time in his life. Kitson spews a rant about the nature of love in one's life and the "bullshit" that is first dates, a sentiment that anyone can relate to. His opinion is simultaneously heart-wrenching and hilarious, and he manages to maintain this balance all evening. He seems to make light of life's purpose while delivering a profound and moving perspective on the inner workings of the human mind and spirit. You'll find it difficult to look at life the same way again.
Presented by and at St. Ann's Warehouse, 38 Water St., Brooklyn, N.Y. Jan. 8–29. Tue.–Sat., 8 p.m.; Sun., 4 p.m. (212) 352-3101, (866) 811-4111, (718) 254-8779, www.theatermania.com, or www.stannswarehouse.org.