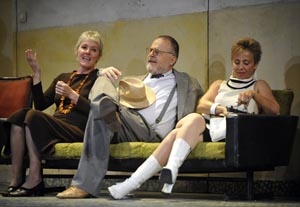 You don't have to be Hungarian to love
Ivanov
as rendered by the Katona József Theatre. In fact, you don't have to be any particular nationality to discover the human faces and tragicomic underpinnings of this early Chekhov play.
By moving the time forward from 19th-century Russia to 1960s Hungary, director Tamás Ascher suggests that the ennui felt by Russians under the czar is no different from that felt by Hungarians under the Soviets. What's also gained is a connection to the theatre of the absurd. Where Beckett's characters are "born astride a grave," Chekhov's are dancing on it. Ascher evokes laughter and tears, often at the same moment, with ridiculous yet afflicted characters shuffling emotions at such a rapid pace that audiences' heads swirl trying to keep up. That elusive combination of farce and melodrama, which has tripped up many productions from Chekhov's day to the present, is on resplendent display.
Ivanov, once strong and capable, is now empty, useless, and depressed. No longer in love with his dying wife, Anna, who gave up her Jewish heritage and her inheritance to marry him, Ivanov succumbs to temptation in the form of Sasha, the daughter of one of his creditors. Beset by not only his wife and would-be lover but also his scheming caretaker, his wastrel uncle, and his wife's smarmy doctor, it's no wonder Ivanov falls apart. It's the stuff of melodrama, but the company so deftly balances between life and death that boredom becomes comic and happiness becomes tragic.
The evening is filled with gems: An elderly lady, suddenly kissed, is awakened to the possibilities of love; a piano tuner plies his trade while Ivanov and Sasha argue; a workman steadily, obliviously puts light bulbs into sockets; a tipsy servant leers at female guests; a wedding bouquet becomes a weapon. Yet amidst the tomfoolery, as much choreographed as directed, characters are clearly delineated. As the feckless, tormented Ivanov, Ernő Fekete physically embodies a once-attractive man who has fallen into dissolution and personal carelessness. As Borkin, the wily caretaker, Ervin Nagy is a clown with a heart, while Zoltán Bezerédi is sad and funny as a henpecked drunk. But everyone in this stellar ensemble cast is excellent, down to the smallest nonspeaking bit.
Though performed in Hungarian with English surtitles, the evening is perfectly comprehensible. Chekhov would be pleased.
Presented by Lincoln Center Festival 09at the Gerald W. Lynch Theater, John Jay College, 899 10th Ave
.,
NYC
.
July 7
–
11. Tue
.–
Sat
.,
8 p.m
.
(
212
)
721-6500 or www.lincolncenterfestival.org
.