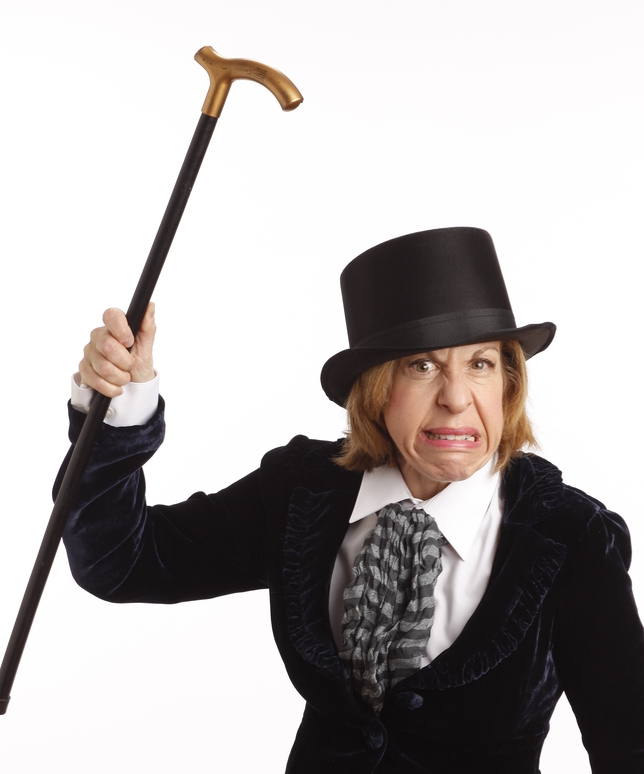 Finely tuned kvetch Jackie Hoffman is back with her sendup of Charles Dickens' "A Christmas Carol." She performed a version of it last year, which I did not see. This incarnation has at least a few updates (Hoffman alludes to the death of Larry Hagman and to the tepid response to Broadway's "Scandalous").
In any case, "A Chanukah Charol"—co-written and directed by Michael Schiralli— is classic Hoffman, trading on her reputation as a cranky pessimist with issues about her heritage ("I'm a self-loathing Jew—on a good day") and her less-than-stellar career trajectory. Her humor is as predictable as the constant barrage of Christmas music that drives Hoffman to distraction each December. That predictability is compounded by her use of the overly parodied Dickens story.
I laughed out loud more than once during "A Chanukah Carol," though I enjoyed Hoffman's comedy more when I saw her less-narrative-based act at 54 Below earlier this year. In "Charol," she enthusiastically—and with varying degrees of success— takes on roles other than Jackie Hoffman, everyone from Patrick Stewart (who serves as narrator for the tale) to Shelley Winters (in the guise of the Ghost of Chanukah Present) to a not-always-heavenly host of Jewish stock characters, including hostile and indifferent members of the audience at a disastrous Chanukah show that Scrooge-Hoffman performs at a synagogue in Rosedale, Queens.
It's at that particular "syna-gig" that the Dickensian tale unfolds. In her makeshift dressing room, the demoralized Hoffman dreams a tranquilizer-and-Manischewitz-inspired vision. Ghostly figures take her back to her early days in Queens, allow her to view the present from a different vantage point, and finally direct her attention to a bleak future in which only the presence of Broadway's "Mamma Mia" seems familiar territory. All the tsimmes is intended to bring out Hoffman's appreciation of the true spirit of Chanukah—to get the kvetch to kvell just a little.
Hoffman's comedy depends largely on repetition-heavy patterns, battering a gag to within an inch of its laugh. She'll plant a comic line early on and circle back to it later, hoping for a good payoff. You expect a joke, and there it comes, but you probably laugh anyway. I predicted the show's final punch line long before it arrived but would likely have been disappointed if I'd guessed wrong.
The humor is outrageous only to the extent that Hoffman plays with some old-school ethnic stereotypes and drops a plenitude of F-bombs. I found some of her more off-the-wall tangents more interesting, particularly her riff on Tiny Kim, the Thai-American delivery boy from Pinkberry who engages his mother in an informed aesthetic analysis of the Jackie Hoffman career. Yes, it's the old "everybody's a critic" jest, but it's cheekily rebranded.
I wish there were more absurd sequences such as that one in "A Chanukah Charol." But the holidays are all about tradition. I consumed the fruitcake—or in this case the kugel—enthusiastically, though it probably tasted fresher some time back.
Presented by and at New World Stages, 340 W. 50th St., NYC. Dec. 8–29. (212) 239-6200, (800) 432-7250, or www.telecharge.com.
Critic's Score: B+