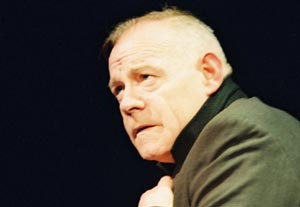 The setting for "James X," written and performed by Gerard Mannix Flynn, is a waiting room in the Dublin High Court in 2002. James, a man in his 40s, carrying a file of papers in his hands, stands ready to give testimony to the Commission to Inquire Into Child Abuse. His great fear is that he'll be facing the very authorities that have ruined his life: "They're in my file, in my head, in my past, and now they are waiting in my present." There is a delay, so James decides to tell his own story. "I'll reclaim myself, myself," he tells us.
Thus begins a searing indictment of the Irish establishment that has brought him to this moment in his sad life. And here Flynn as playwright has made an interesting artistic decision: not to give a straightforward account of the wrongs done to him but rather to wrap his life story in a whimsical stream of consciousness. It's as if the truth is too hard for James to tell, so instead he cloaks his history in a flowing narrative of extravagant Joycean wordplay. He is another Irishman drunk with words. It goes right back to being born: "Mayday. Mayday. Mayhem. I am across the Great Divide."
From being an infant in a family where his mother and father are constantly warring, he attends national school, where he is battered, soon playing truant and stealing from a toy store. This sends him to children's court—"The lockup is the place for your sort"—and he's off at age 11 to St. Joseph's Industrial School in Connemara. Home on leave, he has to go into the hospital for two operations: "Sick from the kick, from the bang of the stick from the Brother." Then begins the downward spiral that includes a horrific home for the mentally ill, prison, and being drunk for 20 years: "Malicious damage to myself, to anything in my flight path."
Although we learn of the physical abuse James has suffered, nothing has been said of sexual abuse. This Flynn saves for the finale, suddenly dropping the poetics as James reads his testimony from the pages he carries. James gives a simple, direct reading of his wasted life and the details of the sexual abuse visited upon him from an early age. "This is not my shame anymore…. It is yours, and today I'm giving it back."
As writer, Flynn spends a little too long on his very early years, indulging in the playful detail of it all. There are times when his fanciful telling obscures the plain understanding of his story and his woeful treatment (though perhaps we as audience are just too hungry to hear the very worst). Directed by Gabriel Byrne, Flynn as actor has only a chair, a sign, an empty stage, and a fulsome talent. He's an artist unafraid to follow the excesses of his own wordplay, delivering a performance of remarkable versatility. And when Flynn changes gear for his final sober summary, we hang on every word.
Presented by Gabriel Byrne, Liam Neeson, and Culture Project at 45 Bleecker, 45 Bleecker St., NYC. Dec. 9–18. Mon., Wed.–Sat., 7.30 p.m.; Sat. and Sun., 2 p.m. (212) 352-3101, (866) 811-4111, www.theatermania.com, or www.cultureproject.org.