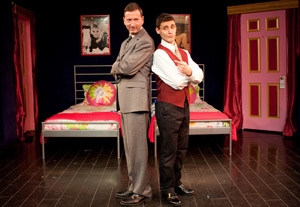 Some people find their philosophical moods while showering or commuting. I find mine during plays like "Joe Marshall's A Night in Vegas," which is so ill-conceived, so numbingly inept that it is more difficult to offer criticism than to ask, how did this happen? In the case of "Vegas," a series of comic vignettes depicting playwright and director Joe Marshall's idea of gay male life, the question touches directly on the history of gay, lesbian, and queer representation on the American stage. How is it that in the same season as the tough-hitting realism of "Next Fall" and the fabulously adventurous "Lily's Revenge," the groan-inducing schlock in which "Vegas" traffics has found a home on Bleecker Street?
Marshall's gays are catty and oversexed, but that's not the problem—gay men still have the right to be witty, flippant, and promiscuous, no matter what Sean Hayes is doing with his career these days. It's that Marshall underestimates his audience by assuming that old gags about unwanted hustlers, casual insults, needy mothers, and—in the least appealing scene—a deaf person and a blind person trapped together in a hotel room will necessarily feel fresh and funny. Set designer Casper De la Torre pushes Marshall further from good taste by making the third-rate Las Vegas hotel room, in which each of the play's unrelated scenes takes place, an excess of pink and plastic.
To be fair, Marshall has written a few moments with genuine comic potential, but they are nearly all misfired by his beautiful, talentless cast. Two exceptions are Jason Romas and Bill Purdy, the latter bringing warmth and sensitivity to the two older men he portrays, and the former turning a scene about sexual insecurity into a surprising examination of honesty in the bedroom. Still, if "Vegas" is a sign of the health of gay theater in the new century, to quote songwriters Scott Wittman and Marc Shaiman, "We've come so far, but we've got so far to go."
Presented by Alternative Theatre Company at the Bleecker Street Theatre, 45 Bleecker St., NYC. Opened June 5 for an open run. Thu.–Sat., 10:30 p.m. (212) 239-6200, (800) 432-7250, or www.telecharge.com