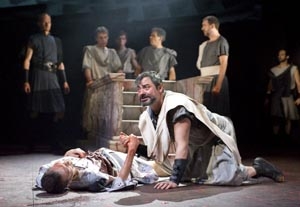 Director Lucy Bailey makes her approach to "Julius Caesar" very clear even before it begins. As the audience enters the Royal Shakespeare Company's traveling scarlet and gray theater, set up inside the Park Avenue Armory, it is confronted by a large projection of two babes suckling at the teats of a particularly brutish-looking wolf. It's Romulus and Remus, of course, and Bailey extends the metaphor with a prologue of a nonverbal (save for roars and yells) bout of savage battle between the two that appears to end in Remus' death. What follows does indeed take place in a brutal and savage society in which virtually all the elite are corrupted by the lust for power and privilege while the boorish, unheeding masses get the representatives they deserve. It's undoubtedly intended as a metaphor for today, and while I find it more apt than I'd like to admit, it does tend to flatten out Shakespeare's tragedy into melodrama.
Nevertheless, it's a gripping melodrama that hurtles forward at such speed that we're largely swept along with it. It's also dominated by a trio of excellent lead performances: Sam Troughton's youthful Marcus Brutus, Darrell D'Silva's swaggering Mark Antony, and Greg Hicks' pantherlike Julius Caesar. Troughton, who injured his knee in a backstage fall while playing Romeo two and a half weeks earlier, has returned to the stage with the aid of a black metal cane for support, something that soon disappears into his fine acting. Younger by a decade than those generally cast in the role, Troughton uses that youth to accentuate Brutus' dangerous naiveté about concepts of honor and the need to play by the rules, a naiveté in which he firmly roots Brutus' reluctant decision to join the conspiracy to kill Caesar. Troughton is riveting in Brutus' explanation to the crowd of why Caesar had to die and makes a special point of Brutus' tight bond with his wife, Portia (whom Hannah Young plays with blazing intelligence and ferocious spirit, turning the small role into a standout).
This is my third RSC outing with D'Silva and Hicks in leading roles, and I continue to be impressed by their versatility and command of character. D'Silva stresses Antony's intense, unthinking loyalty and his hale-fellow-well-met boisterousness, making him a born follower. The actor substitutes a raw and seething fury and contempt for the more usual approach of orotund oratory in Antony's funeral speech to the crowd, and it pays off handsomely. Hicks' Caesar is a man increasingly isolated from his better self by his great victories and public adulation whose love for his murderous compatriots is nevertheless genuine, despite his suspicions of them. Hicks fastens on Caesar's ever-increasing ego: Watch how he delivers the line "I will not come" when Caesar initially refuses to attend the senate on the ides of March at the urging of his worried wife, Calphurnia (Noma Dumezweni's subtle work in the role is an intriguing battle to keep her frustration with her husband at bay). Hicks packs a great deal into those four simple words.
A couple of supporting performances disappoint, alas. John Mackay's Cassius is definitely lean but perhaps not quite as hungry as he should be. As Casca, an over-the-top Oliver Ryan spits out his lines in such high dudgeon that he is often hard to understand, a rare exception to the wonderful clarity of speech that has marked all of these RSC productions.
Composer Django Bates, with an assist from Tim Adnitt, provides a brass-heavy score of appropriate bombast. Video designer William Dudley's work, however—roistering crowds, rampaging hordes of soldiers, a Rome dramatically engulfed in flames—threatens to overwhelm the proceedings, giving them the feel of a lurid graphic novel. Such literalness, however stylized, only smothers the power of the Bard's muscular words.

Presented by the Royal Shakespeare Company, Lincoln Center Festival, and Park Avenue Armory, in association with the Ohio State University, as part of Lincoln Center Festival 2011 at the Park Avenue Armory, 643 Park Ave., NYC. July 29–Aug. 14. Schedule varies. (212) 721-6500 or www.lincolncenterfestival.org.