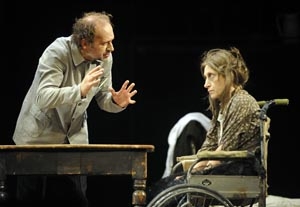 Existing somewhere between Kafka and Camus, with a smidgen of Beckett thrown in,
Kalkwerk
spends four hours telling us about an existential  man who drives himself, his wife, and eventually the audience quite mad. Despite brilliant acting in the lead roles, plus engrossing music by Jacek Ostaszewski, this Narodowy Stary Teatr production (in Polish with English supertitles) is wearingly repetitive.
Adapter, director, and scenic designer Krystian Lupa based the play on a novel by Austrian writer Thomas Bernhard. According to a program note, with the exception of two scenes, Lupa "has taken the entire script of
Kalkwerk
from Bernhard's novel." The result is predictable: a work steeped in narrative. That it comes intermittently to stage-worthy life is thanks to vivid directing and acting.
Antihero Konrad, determined to uncover the mysteries of the sense of hearing, moves with his crippled wife to a deserted lime works, the
kalkwerk
of the title. Intent on writing his treatise, he browbeats his wife and is a deadbeat to the bank. His first acquisition is a piano, not because he loves art but to calm his nerves. Indeed, Konrad, in a blazingly neurotic performance by Andrzej Hudziak, cannot sit still. He doesn't so much walk as propel himself from place to place. His wife, in an alternately empathetic and shrewish performance by the gifted Małgorzata Hajewska-Krzysztofik, eventually realizes she's married to a man who is both buffoon and genius. Lines like "There is no purpose," "He lacked the audacity to see things through," and "You realize your work is meaningless" reinforce the piece's existential focus.
There are moments when the evening compels. A dream sequence in which Konrad's wife sets fire to his treatise, an encounter with a naked professor, an amusing sequence involving a political official, and business with a powder puff all show the skill that has made Lupa well known throughout Europe. But
Kalkwerk
is one of those events that you feel you ought to see, not that you might want to see. It's medicine for the brain, not the heart.
Presented by Lincoln Center Festival 09at the Gerald W. Lynch Theater, John Jay College, 899 10th Ave
.,
NYC
.
July 14
–
18. Wed
.–
Sat
.,
7 p.m
.
(
212
)
721-6500 or www.lincolncenterfestival.org
.