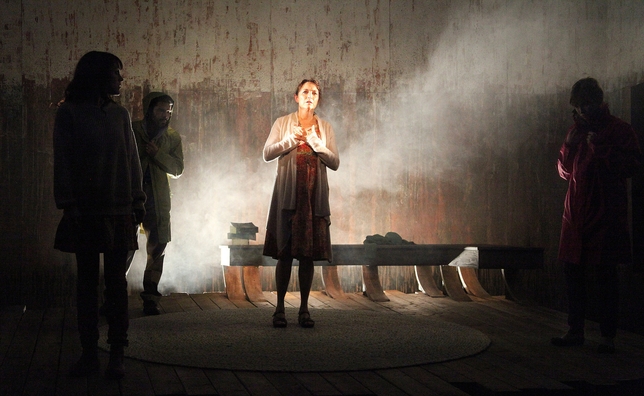 According to the London newspaper The Independent, as of May 2011 Jon Fosse was the most performed European playwright alive, with 900 productions in more than 40 languages, outpacing such names as Alan Ayckbourn and Tom Stoppard. "My plays travel extremely well," he told the paper. "And they have been well received everywhere, except in England." Rattlestick Playwrights Theater's production of Fosse's "A Summer Day," in a translation from the original Norwegian by its director, Sarah Cameron Sunde, is my first encounter with the work of this 2010 winner of the International Ibsen Award. I'm not convinced that it has traveled all that well.
Fosse eschews naturalism in favor of what he calls a "poetical reflection of the basics of life." He makes liberal use of silences, pauses, breaks, and the like, but the language containing them is plainspoken and repetitive enough to at times skirt banality. "A Summer Day" examines the overwhelming effect of loss. In summer, a middle-aged woman relives the autumn day many years ago when her husband disappeared during a rainstorm while fishing from a rowboat on the fjord bordering their isolated rural home. It's never determined what happened. Fosse intersperses monologues in the present with dramatized scenes from the past and brackets the play with a present-day encounter between the woman and a female friend who also visited on the day of the tragedy.
This is Sunde's fourth Fosse outing as director-translator, and the confident production illustrates how attuned she is to his sensibilities. The excellent six-person cast is led by film star Karen Allen in a welcome return to the New York stage. Despite being asked to play the unnamed woman at a rather unvaried, muted pitch, Allen exudes a vibrant stage presence that commands attention, even during long stretches observing scenes or repeatedly staring out a window. Allen is particularly good with a climactic speech describing the rescue search, delivering it with mounting urgency.
The consistently fine Samantha Soule is a credible past version of Allen's character, full of a quirky energy and adept at expressing the niggling anxiety that is unaccountably getting under the younger woman's skin. Handsome McCaleb Burnett simultaneously conveys the husband's love for his wife and an inner uneasiness, perhaps despair, that is complicating that love. As the younger friend, Maren Bush offers a charming, coltish girlishness that in Pamela Shaw's older friend has matured into a warm serenity. Carlo Albán provides some welcome comic relief as the younger friend's husband, impatient to be gone at first, then a reluctant but compassionate source of support.
John McDermott's clean-lined, simple set surrounded by mottled metal walls combines with Nicole Pearce's nuanced lights and Leah Gelpe's artful projections to create a stunning stage picture that swirls hauntingly around Allen's big monologue. There are also some effective nonverbal moments, as when Soule's character momentarily sees her older self, and when Allen's character physically comforts her younger version. Too often, however, despite all the loving care, "A Summer Day" feels like an intellectualized expression of emotion.
Presented by Rattlestick Playwrights Theater at the Cherry Lane Theatre, 38 Commerce St., NYC. Oct. 25–Dec. 8. (212) 352-3101, (866) 811-4111, or www.theatermania.com. Casting by Calleri Casting.
Critic's Score: C+