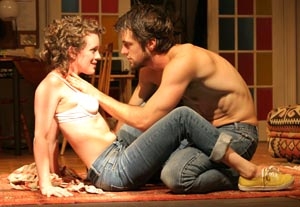 It's a puzzlement that as part of its 15th season, Rattlestick would revisit "Killers and Other Family." Perhaps the thinking was that playwright Lucy Thurber had finally fleshed out this tale of violent rural Bay Staters wreaking havoc with tranquil Manhattanites. Sad to say, that's not the case. The play lands as little more than a formal exercise in discomforting the audience—and it would be an unsuccessful exercise were it not for the bold, physically wrenching performances of Samantha Soule and Aya Cash.
The title gives you a fair sense of the topic but not of the tone. "Killers and Other Family" is not nearly as cheeky as its moniker suggests. It starts slowly—very slowly—with Lizzie (Soule) being pulled out of dissertation work by two uninvited visitors, her brother Jeff (Dashiell Eaves, once again playing simple) and Jeff's friend Danny (Shane McRae as something of an evil Ashton Kutcher).
Jeff is in panic mode (you can guess what bad thing they've done); Danny is just looking to play games. In addition to being Jeff's childhood best friend, he's Lizzie's former boyfriend, protector, and molester. Things take a particularly nasty turn once Lizzie's sweet, suburban-raised girlfriend Claire (Cash) arrives home. For this, some credit must go to the harrowing physical work of director Caitriona McLaughlin and fight director David Anzuelo.
Thurber's dialogue is well-worn reunion material. People remember shared songs and routines. They drink to evade, then they drink to release. The familiarity of it makes for a decent contrast with the ensuing violence, but it also makes for a lot of boring chatter.
Still, it's impossible to look away once Danny gets out of control. Lizzie responds with a virtuosic range of daring defenses, and Soule shifts tactics with the technical perfection of an Olympic hurdler. Cash is brave in her vulnerability. Together, they're among the more believable stage couples I've seen in some time. And that I was interested in them only when under siege says a lot about the play's range.
Presented by and at Rattlestick Playwrights Theater 224 Waverly Place, NYC. Sept. 24
–
Oct. 17. Mon
.,
8 p.m
.;
Thu
.–
Sat
.,
8 p.m
.;
Sun
.,
3 p.m
. (
212
)
868-4444 or www.smarttix.com. Casting by Judy Bowman Casting
.