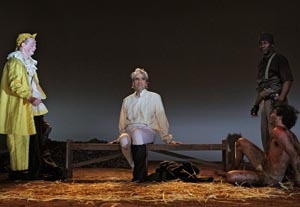 When Sam Waterston makes his first entrance as Shakespeare's King Lear on the Newman stage at the Public Theater, all of the royal court is facing away from him, kneeling in the wrong direction. Director James Macdonald probably intended this staging to represent the dysfunction in Lear's kingdom and to indicate the monarch's wandering mind, but it also serves as a metaphor for the entire misbegotten production: Something just feels off about it. The large cast consists of top-rank actors, but they seem to be in different plays, each following his or her own path rather than working together. Macdonald's direction fails to convey the heartbreak and tragedy of the aged ruler whose pride and disconnection with his three daughters leads to the dissolution of his land and the rupture of his family. It's unfortunate that there were two well-received Lears earlier this year (Derek Jacobi with the Donmar Warehouse at BAM and Greg Hicks with the Royal Shakespeare Company at the Armory). This muddled production suffers even more by comparison.
It's a real pity, because Waterston, one of the few American stars to regularly return to the classic stage, makes several interesting choices. He emphasizes Lear's frailty and age, giving him an uneven gait and an unsteady stance. He clearly gets across the king's love for all of his daughters, especially the honest Cordelia. There is also a fascinating physicalization of Lear's anger at being defied and betrayed by his elder offspring, Goneril and Regan. As Lear finds himself deprived of his train of knights and treated like a child, Waterston seems to be literally pushing down his rage, holding it within his body. Unfortunately, the actor lets that ire spew forth too often, too early, and with little vocal variety, so that by the time we reach the storm scenes, the Bard's poetry comes off as one-note. Waterston has already reached his peak and has nowhere to go. He's totally spent by the middle of the play's three-and-a-half-hour running time, though he does muster a heartbreaking final speech over Cordelia's dead body.
The supporting company is a mixed bag of clashing styles. John Douglas Thompson's Kent is a larger-than-life creation (though he chooses an incongruous Southern accent when in disguise), while Michael McKean's Gloucester is more suited to kitchen-sink realism. Kristen Connolly's Cordelia is a simpering ninny, but Enid Graham and Kelli O'Hara offer more-complex interpretations as her treacherous siblings. Graham and O'Hara actually take a novel approach to their roles, making the daughters' demands on their father seem perfectly reasonable and only turning nasty when Lear begins throwing tantrums in response. Bill Irwin makes for a bizarre fool, with more vocal tics than his basket-case father character had in Roundabout's "Bye Bye Birdie." Arian Moayed is a strangely lifeless Edgar and only shows some zip when covered in mud as Mad Tom. Seth Gilliam delivers an acceptable Edgar but lacks the charisma that would have explained why both Goneril and Regan lust for him.
There are several missteps in the design departments as well. Gabriel Berry's costumes are a drab fusion of contemporary and traditional Shakespearean garb. Miriam Buether's stark set features a chain-link curtain that makes distracting clanking noises whenever anyone has to enter through it. Macdonald makes it worse by having the curtain slowly move forward during the early scenes to stress the increasing tension in the king's court, but the director only succeeds in decreasing the playing space for the actors. Luckily, all the chains come crashing down during the storm scene and remain in a heap—a symbol of Lear's broken realm and an unfortunate metaphor for this messy production.
Presented by and at the Public Theater, 425 Lafayette St., NYC. Nov. 8–20. Tue.–Sun., 7 p.m.; Sat. and Sun., 1 p.m. (No performance Thu., Nov. 17.) (212) 967-7555 or www.publictheater.org. Casting by Jordan Thaler and Heidi Griffiths.