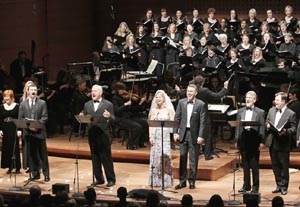 Thank you, Collegiate Chorale. For years I've wanted to hear the complete score of Kurt Weill and Maxwell Anderson's "Knickerbocker Holiday," and now I have. Even better, I've heard it sung in proper dramatic context, thanks to Ted Sperling and Edward Barnes' intelligent concert script adaptation. Best of all, Sperling has directed a fine cast in a confident if occasionally too-sedate presentation that puts Weill's music and Anderson's book and lyrics front and center. The downside? Despite some admirable music, the show is a slog.
It's not every musical comedy whose published script begins with a four-page political screed against Social Security. Weill may have been motivated to write the 1938 satire by concerns about Stalin, Mussolini, and Hitler, but Anderson is after Franklin Delano Roosevelt. His vehicle is the character of Peter Stuyvesant, governor of the Dutch city of New Amsterdam from 1647 to 1664. Stuyvesant arrives in what is now Manhattan and replaces the bumbling and corrupt city council with a dictatorship, which an adoring populace enthusiastically accepts. Only young Brom Broeck, who is constitutionally incapable of taking orders, is unimpressed, in part because Stuyvesant decides to marry Brom's fiancée, Tina Tienhoven. These romantic and political complications are periodically interrupted by none other than Washington Irving, who is presented as the 26-year-old author of the story, eager for his first literary success. In the end, Irving persuades Stuyvesant to abandon his dictatorship and unite the lovers so that the governor will be remembered fondly by history. (And you thought metatheatrics in musicals began with "Urinetown"?)
More interested in scoring political points than in storytelling or characters, Anderson regularly undercuts any semblance of narrative drive. But his observations, while occasionally pointed and trenchant, are generally far too self-satisfied, repetitive, and obvious. Worse, this playwright famous for writing in verse doesn't get the difference between poetry and lyrics. His are awkward, too dense, and marred by false rhymes and misaccents. Even in the show's signature ballads, "It Never Was You" and "September Song," you feel the words sometimes fighting the music.
That music, however, is another matter entirely. In only his second Broadway show, Weill is learning on the job. His score is a fascinating mixture of operetta choruses, peppy vaudeville turns, gorgeous Broadway ballads, and Germanic-flavored strains, all orchestrated brilliantly by the composer himself. If the score lacks the dramatic sophistication of later efforts such as "Love Life" and "Lost in the Stars" (the latter up next in concert, at Encores! Feb. 3–6), it's still persuasive evidence that Weill was and remains one of Broadway's most original, skilled, and artistically ambitious composers.
"Knickerbocker" was a star vehicle for the legendary Walter Huston, whose definitive performance was preserved in a truncated radio broadcast. Victor Garber instinctively understands the size of the role, and if he lacks Huston's rapscallion charms, he smartly compensates by playing to his own strengths, delivering a steely, suave, impeccably cultured Stuyvesant with a tantalizing darkness in his soul. But the hero of the evening is Ben Davis, as Brom. A man whose credits range from "The Magic Flute" to "Thoroughly Modern Millie," Davis gives a rough-hewn, aw-shucks performance that's pretty nigh perfect, while his singing is impeccably phrased and equally at home in the varied styles. When Davis and Kelli O'Hara, overqualified but delightful in the undemanding role of Tina, soar together on "It Never Was You," well, that's pretty much my definition of nirvana.
Bryce Pinkham sings with admirable clarity and makes a properly coiled and nervous Irving, and Christopher Fitzgerald brings his trademark vaudevillian eccentricities to the underwritten role of Tenpin, Brom's sidekick. (Sperling has restored the cut "The Bachelor Song" to give Fitzgerald something to do, but despite the actor's best efforts, it's all too clear why it was excised.) A chorus of some of today's go-to character men—Michael McCormick, David Garrison, Brad Oscar, Steve Rosen, Brooks Ashmanskas, Jeff Blumenkrantz, and Orville Mendoza—brings spark and snap to Anderson's shticky ethnic humor that's inspired by the classic routines of Lew Fields and Joe Weber.
James Bagwell conducts with clarity and precision, though at times his work can feel a tad square—this was a raucous musical comedy, after all. The Collegiate Chorale makes beautiful sounds as it stands in for the merry villagers. If words are occasionally hard to understand, I blame Anderson's technique more than the chorale.
If you're interested in the evolution of the American musical, don't miss "Knickerbocker Holiday." For all the material's flaws, it's well worth making the show's acquaintance.

Presented by the Collegiate Chorale at Alice Tully Hall, 1941 Broadway, NYC. Jan. 25 and 26. Tue. and Wed., 8 p.m. (212) 721-6500, (646) 202-9623, www.lincolncenter.org, or www.collegiatechorale.org.