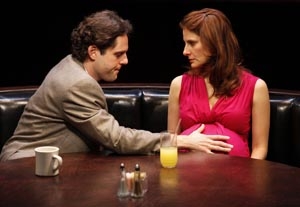 You'd think a play consisting almost entirely of two-person conversations in the same restaurant booth would quickly become tedious. Yet in "Knickerbocker," playwright Jonathan Marc Sherman, director Pippin Parker, and an imaginative cast manage to make this potentially static setup alive with biting humor and keen observation.
The concept is deceptively simple: Jerry, 40 and still a kid at heart, confers with his wife, friends, and family about his impending fatherhood during a series of meals at the titular Manhattan eatery. From the early days of his spouse Pauline's pregnancy to 24 hours before her due date, Jerry explores the effect of his mother's death when he was a child, his immaturity, his lack of romantic commitment before he met Pauline, and how all these issues relate to his fear of becoming a parent. "Are you ready?" is the recurring question the other characters ask him about the coming event, and he makes peace with his anxiety only when he realizes he's not and no one ever is.
Sherman first came to prominence in 1988 when his play "Women and Wallace" was performed at the Young Playwrights Festival. In that surprisingly mature work, the title character examines his connections with the opposite sex, which have been ruptured by the early death of his mother. Jerry is a grownup version of Wallace, still stunted by a similar tragedy but facing it with a smile and optimism that he can make his child's young years happier than his own.
Though the play's structure is rigid—Jerry in a series of one-on-one dialogues with the other characters—the talk is rich with quirky details and deep insights. The more-memorable moments include a debate over the psychological significance of Jerry's choice of a "Dumbo" poster for the baby's nursery; an ex-girlfriend's cataloguing of  Jerry's faults; a stoner pal's dire warning for Jerry to leave Pauline; and the recollections of Raymond, Jerry's dad, of a cross-country driving trip and its startling effects on the family cat, which was left at home.
Parker skillfully surmounts the staging challenge of two actors sitting and talking, keeping our attention fully engaged. As Jerry, Alexander Chaplin balances the character's neuroses with a winning wit and a self-deprecating sting. Mia Barron is a compassionate Pauline, while Christina Kirk makes for a tart Tara, the ex-flame who is still friendly. Ben Shenkman invests Melvin, Jerry's lawyer friend, with dry humor. Bob Dishy finds the contented center of Raymond, and Zak Orth is a riot as Chester, the pot-toking amigo who wants to pull Jerry back to their boyish ways.    
Presented by Public LAB at the Public Theater, 425 Lafayette St., NYC.May 19–29. Tue. and Sun., 7 p.m.; Wed.–Sat., 8 p.m.; Sat. and Sun., 2 p.m. (212) 967-7555 or www.publictheater.org. Casting by Jordan Thaler and Heidi Griffiths.