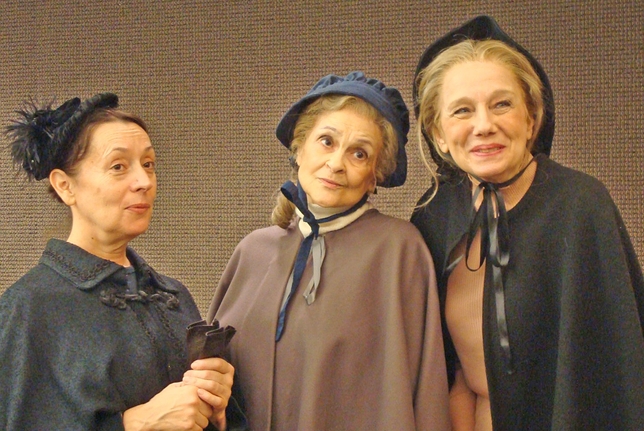 I confess to a fondness for hokey period thrillers, particularly those set in England, the land of so many of my ancestors. But even I grew impatient with the clunky dramaturgy of Edward Percy and Reginald Denham's 1940 Broadway hit, "Ladies in Retirement," set in a spooky isolated house on the edge of the Thames' marshes outside Gravesend. There's a reason why the largely faithful 1941 film version telescoped the play's nearly two and a half hours into a tight 90 minutes. "Ladies" is the kind of forthrightly commercial property that dates faster than corn pops. It's really not worth the loving care Pulse Ensemble Theatre lavishes upon it, but while you're watching it, you're very grateful for director Amnon Kabatchnik's confident production.
Middle-aged Ellen Creed has come down in the world and must work as a housekeeper and companion to Leonora Fiske, a spunky former chorus girl getting on in years. The sole support of two dotty older sisters, Louisa and Emily, Ellen hopes to persuade Leonora to let her sisters come and live with them in the large, rattling old country house. They come from their shabby, cramped rooms in London for a visit, but it doesn't take. Faced with Leonora's demand that they leave, Ellen does the only sensible thing to end Act 1: murder. But it's not so easy keeping it a secret from Lucy, the saucy maid; Albert, Ellen's ne'er-do-well nephew; or a prying nun from the nearby priory, not to mention Leonora's bankers. Will it all come crashing down? It takes two more long acts to find out.
The minute the curtain parts to reveal designer Jhanna Gurvich's lovingly detailed living-room set—particularly impressive on what must be a shoestring budget—we know that "Ladies in Retirement" is going to receive lots of love. Angela M. Kahler's costumes are just as effective, and the quality continues in the performances. Mikel Sarah Lambert practically channels the excellent Isabel Elsom, the original Leonora on both Broadway and film, winningly mixing charm, vivacity, sentiment, and a hint of devilishness. Camille Mazurek is an assured Ellen, convincingly suggesting hidden depths beneath a placid exterior. Her sudden outburst at Leonora is a highlight. Hanna Hayes and Carol Lambert are thoroughly believable sisters as Louisa and Emily, wisely coming across as more eccentric than crazy. Burt Grinstead stands out as the insouciant Albert, making it easy to understand how the character gets away with his bad behavior and striking potent sexual sparks with Ashley Taylor's pert and not-so-proper Lucy. Susan Barrett makes something intriguingly odd out of the thankless role of that nosy nun.
You're likely to be way ahead of "Ladies" for most of its duration, but at least in the hands of this worthy ensemble, it still has a pulse.
Presented by Pulse Ensemble Theatre at Theatre 3, 311 W. 43rd St., 3rd floor, NYC. March 8–April 3. Wed.–Sat., 8 p.m.; Sun., 3 p.m. (212) 279-4200 or www.ticketcentral.com.