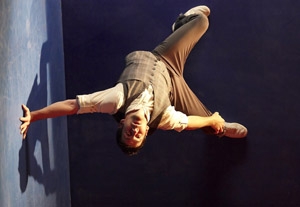 Who knew Montreal should be celebrated for its acrobatics? As the circus troupe 7 Fingers can't stop extending its hit show "Traces," Montreal-based director Daniel Brière brings the city "Leo," a mind-twist of a one-man show. Although performer Tobias Wegner does not actually fly through the air, his coupling of video and a minimalistic set creates the ultimate onstage optical illusion in this offering from the Berlin-based theater company Circle of Eleven.
For the entirety of the performance Wegner remains within an empty dioramalike box, designed by set designer Flavia Hevia. The box is on stage right, and all of the walls and the floor are blue, except for the wall furthest right, which is red. However, Wegner interacts with his surroundings as if the red wall is the floor, and a video projector flips his actions 90 degrees clockwise onto a large projection screen at stage left, adjacent to the box. This allows a simple movement like standing straight up to look like Wegner's body is protruding from the left wall, parallel to the red floor. It's a simple enough concept, but the results are mind-blowing.
The show won the 2011 Best of Edinburgh Award at the Edinburgh Festival Fringe, and I found myself watching the screen instead of Wegner for the majority of the evening. Juan Kruz Diaz de Garayo Esnaola's seemingly straightforward choreography allows the slightest movement in this altered world to trick the mind.
There are no spoken words. Wegner fills the hour with musical sections, and his exaggerated expressions delightfully evoke those of a silent film. During the second half, Wegner sketches a chalk scene on the back wall, and video designer Heiko Kalmbach and animation designer Ingo Panke bring this drawing to life. Even though the objects only animate on the screen, Wegner interacts with them perfectly, as if they existed in this world. It's his childlike innocence in his own refreshingly original concept that enchants at every turn.
Presented by the Carol Tambor Theatrical Foundation and Circle of Eleven at the Clurman Theatre, 410 W. 42nd St., NYC. Jan. 15–Feb. 5. Tue., 7 p.m.; Wed.–Fri., 8 p.m.; Sat., 2 and 8 p.m.; Sun., 3 p.m. (212) 239-6200, (800) 432-7250, or www.telecharge.com.