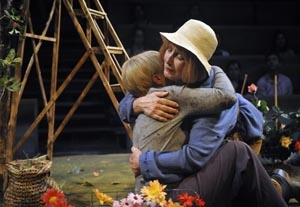 Le Théâtre Du Soleil's dense but not impenetrable
Les Éphémères
investigates the impact of death on the living and the sad prospects of life unlived. In French. For six hours. Tough sell, right?
But
Les Éphémères
, though certainly overlong, is also overrun with stunning imagery and overwhelmingly thorough in its succinct depictions of everyday life. From the sharp perspective of severely steep bleachers, the audience is presented with studies in divorce, bereavement, and salvation that roll past in 29 modular episodes performed on equally modular revolving set pieces. Cinematic motion forms the spine of the whole experience. A character's memories can float into view occasionally, or scenes may drift off into lonely darkness, like an evocative one featuring a campfire on a beach.
The fact that Le Théâtre du Soleil presents the two-part piece in the company's native tongue (with English supertitles) might scare off everyone save the black-tie, Lincoln Center crowd, but it really shouldn't. Conceiver-director Ariane Mnouchkine's compelling stage pictures and the cast's affecting performances make the storytelling quite accessible, except for a few cluttered scenes. In fact, language seems inferior to the frantically spinning set when a woman receives CPR after a car accident. Paired with a spinning ambulance light, the whirling tableau creates a dizzying sense of panic that mere words could not. Also transcendent: the way Shaghayegh Beheshti shakes and fidgets endlessly as the senile Madam Perle, whom we first meet when the poor old woman has confused a gastrointestinal ultrasound with a pregnancy ultrasound. As we track Perle's pitiful dementia through several progressively worse scenarios, Beheshti's fierce, squinting performance—among all those by the large, doggedly committed cast—comes closest to sublimity.
The title translates to "the ephemerals," and sure enough, audiences will discover an entire cosmos of remarkable passing moments within this French epic.
Presented by Lincoln Center Festival 09 in association with Park Avenue Armoryat Park Avenue Armory, 643 Park Ave
.,
NYC
.
July 8
–
19. Remaining performances
:
Part 1
:
Fri
.,
July 10, 7:30 p.m
.;
Sat
.,
July 11 and 18, 2:30 p.m
.;
Sun
.,
July 12 and 19, 2:30 p.m
.;
Wed
.,
July 15, 7:30 p.m
.;
Part 2
:
Sat
.,
July 11 and 18, 7:30 p.m
.;
Sun
.,
July 12 and 19, 7:30 p.m
.;
Thu. and Fri
.,
July 16 and 17, 8 p.m
.
(
212
)
721-6500 or www.lincolncenter.org
.