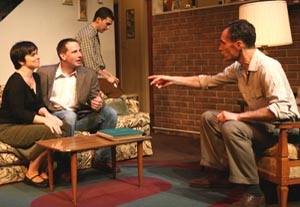 Marc Palmieri's "Levittown" has some genuinely earned dramatic pyrotechnics, but when he wanders from kitchen-sink realism to soap operatics, not even the sterling work of director George Demas and an admirable cast can save this production from drowning in suds.
The story is a familiar one, with the dysfunctional Maddigan family battling over old sores and slights as they attempt to escape from self-created demons. Three generations of the clan have a bad case of survivor guilt. While serving in World War II, grandfather Edmund narrowly escaped a bomb that destroyed his entire platoon. He has spent the rest of his days asking God why he was spared and has passed his self-destructive depression on to his son, daughter, and grandchildren. The play concentrates on adult grandchildren Colleen and Kevin, each grappling with feelings of doom. Kevin is back home after leaving college before graduation for the fourth time; Colleen appears happy and healthy after years of promiscuity and drug abuse.
When Palmieri sticks to Kevin and Colleen's story line and their attempts to reconcile with their bitter, alienated father, Richard, the interplay between these troubled souls is achingly real and riveting. No one is a complete villain or hero, and each is given equal dramatic weight. Unfortunately, the playwright felt the need to insert extraneous plot devices—such as a loaded gun hidden in the attic, the significance of which still eludes me—and distracting flashbacks to Edmund's 1940s youth. The author also kills any credibility he has established by ending the play with a melodramatic flourish worthy of "Desperate Housewives."
When the play works, it's chiefly due to Susan Bennett's tough-on-the-outside, scarred-on-the-inside Colleen. When Bennett first enters Michele Spadaro's appropriately tacky Long Island set, you know Colleen lives there. Every line, gesture, and pause is laden with a history of self-loathing that Colleen longs to reject but somehow cannot. Tristan Colton's Kevin is almost as detailed, but Colton fails to overcome an out-of-nowhere suicidal streak that Palmieri gives the character for the final curtain. Curzon Dobell painfully delineates Richard's repressed anger, and Deborah Tranelli is moving as his estranged wife, who indulges in chanting and yoga for solace. Todd Lawson, Tyler Pierce, and Dane Knell are equally affecting in smaller roles.
The actors and director make a trip to this "Levittown" worthwhile, but the author has given them and the audience too many exits off the main highway.
Presented by Cliplight Theater and Theatre at Saint Clement'sat Theatre at St. Clement's
,
423 W. 46th St
.,
NYC
.
July 13
–
Aug. 1 Wed
.–
Sat
.,
8 p.m
.;
Sun
.,
5 p.m
.
(
212
)
352-3101
, (
866
)
811-4111, www.theatermania.com, or www.cliplighttheater.com
.
Casting by Jerry Beaver
.