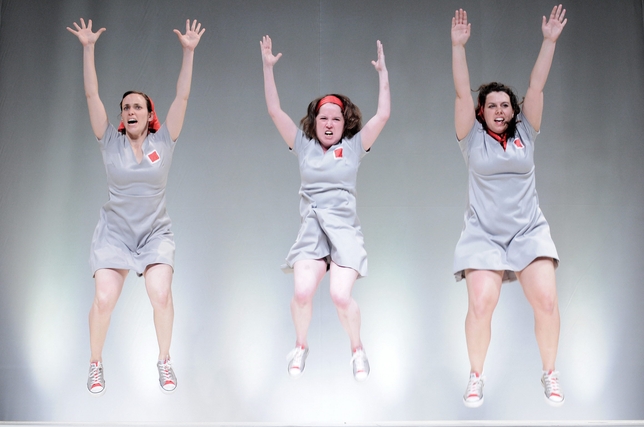 This review comes to you, dear readers, from an exhausted critic. I've spent 10 hours listening to the rambling stream-of-consciousness life story of someone I've never heard of, delivered by a company of actors with no interest in communicating a plot, resolving into no moral except the unsurprising banality of middle-class American existence. In the hands of other artists, "Life and Times: Episodes 1–4" would be the paradigm of pedantic pointlessness. Instead, crafted by Nature Theatre of Oklahoma, the performance ensemble directed by Pavol Liska and Kelly Copper, this four-part mock epic is the first great theatrical event of 2013.
Making theatrical spectacle out of everyday ramblings is Liska and Copper's chief parlor trick. "No Dice," the 2007 work that launched their reputation, compiled hours of phone conversations from friends and family. Later, "Rambo Solo" derived from one performer's obsessive recounting of the novel "First Blood," while "Romeo and Juliet" sampled fantastic misrememberings of Shakespeare's supposedly most famous plot. The source text for "Life and Times" is 10 phone conversations with ensemble member Kristin Worrall, who answered a simple prompt from Liska: "Tell me the story of your life."
Nature Theatre has quickly risen to avant-garde royalty, but I've thus far failed to join the critical consensus. "Rambo Solo" felt like a joke without a punch line, and "Romeo and Juliet" was a punch line pounded by repetition into tiring cleverness. But the straightforward project of "Life and Times," combined with its epic magnitude, makes music of its tedium and a kind of love out of its Olympian labor.
Each episode presents a full transcription of one phone call delivered in a different theatrical style: first an upbeat musical theater ensemble (think "[title of show]"), second a 1970s pop-disco chorus (think tracksuits and the Bee Gees), third an aristocratic murder mystery (think Agatha Christie). The fourth part retains the previous setting but includes more solemnity and, inexplicably, aliens (think Richard Foreman). Apparently, there are six episodes yet to be devised.
The performers launch themselves into the ridiculousness with children's energy and athletes' endurance. They sing or speak every "umm," "like," and tangential self-deprecation from Worrall's recollections. Alison Weisgall's crisp vocals especially serve the show's schizophrenic combo of extreme theatricality and banal monologue, as do Anne Gridley's histrionic gestures. Worrall herself, unacknowledged by the script, is a silent but magnetic presence in episode three and captivates when she finally speaks, in episode four. Most surprising is the infectious music, composed by Robert M. Johanson, Julie LaMendola, and Daniel Gower and much hummed by the audience at intermission.
The cast's fidelity to Worrall's transcription is an ethical imperative that keeps them on task and us attentive to their work. It is easy—and not inappropriate—to occasionally tune out the details of the story and absorb the work as a formalist spectacle á la "Einstein on the Beach." But if form and content are taken together, the question that "Life and Times" poses—What can we do with someone's life?—resonates far beyond the theater stage.
Presented by the Public Theater and Soho Rep, in association with John Adrian Selzer, as part of Under the Radar, at the Public Theater, 425 Lafayette St., NYC. Jan. 22–Feb. 2. (212) 967-7555 or www.publictheater.org.
Critic's Score: A