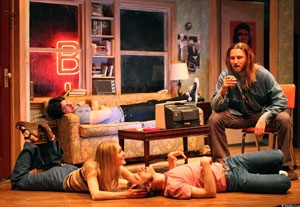 In the rough world of "Little Doc," an unfocused play by Dan Klores, it's every dealer, bookie, and junkie for himself. Apparently, Brooklyn in 1975 was the kind of place where no bond of friendship or love could trump the burden of money owed or cocaine cut too thin. Director John Gould Rubin and the commendable cast work hard to present this hopeless world authentically, but Klores has neglected to populate it with compelling characters.
The night before a middle-tier drug dealer named Ric (played with appropriate agitation by Adam Driver) is supposed to leave Brooklyn with his girlfriend, some of big boss Manny's money turns up missing. Manny, played with a solidly thuggish affect by Dave Tawil, sends another of his posse to lean on Ric's druggie friends and find the pincher. There is much coarse talk in Klores' script about this allegedly stolen money, but we are never given a clear indication of how much was taken, by what means it was taken, or even what grim consequences Manny might exact. Instead, we are given a thorough play-by-play of the baseball game the characters are watching.
As a result of these jumbled narrative priorities, the irritable characters in "Little Doc"—which takes its title from Ric's childhood nickname—can cuss and posture and be as tough, stoned, or sexy as needed, but there aren't any ends to those means, no prospects or stakes. Ric and his girlfriend, Peggy (Joanne Tucker), dream of happily starting over in Aspen, yet they are constantly at each other's throats, and we have no reason to believe that would change. Even worse, these petulant lowlifes offer us no reason to care.
Rubin manages to inject some theatricality into the prolonged 90 minutes, and the cast members are all highly capable. Designer David Rockwell's well-made, realistic apartment and bar sets ground the proceedings firmly in reality.
Presented by and at Rattlestick Playwrights Theater, 224 Waverly Place, NYC. June 17–July 18. Mon., Wed.–Sat., 8 p.m.; Sun., 3 p.m. (No performance Sun., July 4.) (212) 868-4444 or
www.smarttix.com
. Casting by Calleri Casting.