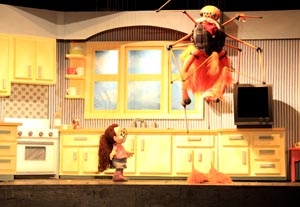 Though aimed at ages 3 to 9, "Little Miss Muffet's Monster-Sitting Service" is probably best appreciated by middle-aged moms looking for gratifying daytime entertainment to which they can take the kids. Visually striking yet kinetically static, the hourlong marionette musical is driven by an intelligent, humorous script by Douglas Russell Strich, who also directed. The boldly colorful marionettes (built by Strich and costumed by Shana Siegel) and Valerie Light's elaborate sets are fantastic to look at, but the real delights are nestled in the text and rely on a sensitivity to satire and a knowledge base far beyond that of most anyone under 40.
Strich's touching story concerns the adventures of a plucky 6-year-old girl, Molly Muffet, adorably voiced by Haley Medina. Her parents away at a class reunion, Molly finds herself home alone for the weekend when her grandfather, scheduled to babysit, gets snowed-in in Alaska. In his stead, Grandpa sends an old family friend, a gentlemanly, well-dressed, 330-year-old giant orange spider named Al, who'd befriended Molly's legendary ancestor, the Miss Muffet of nursery rhyme fame. Over Al's objections, Molly sets up a sitting service for icky little creatures (bugs, baby dragons, and whatnot) and winds up hosting a mysterious plant that almost destroys the world.
The enchanting tale is spiced with jabs at hot-button topics such as reality TV and parents who work too much to spend adequate time with their kids and includes references to Twister, chimps in space, the man-eating plants of 1950s sci-fi films, robots, and the lyric to "Aquarius." The day I saw the show the moms were laughing out loud while the little ones fidgeted.
However, the tots did seem to enjoy the music, an accessible collection of songs by Emily Fellner, some slow and bluesy, others fun and bouncy. All of the music, singing, and dialogue is recorded and often out of balance. It is difficult in places to hear Al's dialogue over the underscoring. This is disappointing, as Eric Johnson voices him with a quiet dignity and an upper-crust accent that is dramatically effective and befits the character. Similarly, the clever lyrics, sung with a thick German accent by Dick Terhune as Dr. Boo Boo, a mad scientist, get lost under the instrumental accompaniment.
The show is presented at Central Park's wee Swedish Cottage, a 19th-century architectural gem, which alone is worth the visit.
Presented by City Parks Foundation at the Swedish Cottage Marionette Theatre in Central Park at 81st Street and Central Park West, NYC. Jan. 27–Sept. 30. Schedule varies. (212) 352-3101, (866) 811-4111, or www.cityparksfoundation.org.